Revolutionary gene sequencing technology arrives in Exeter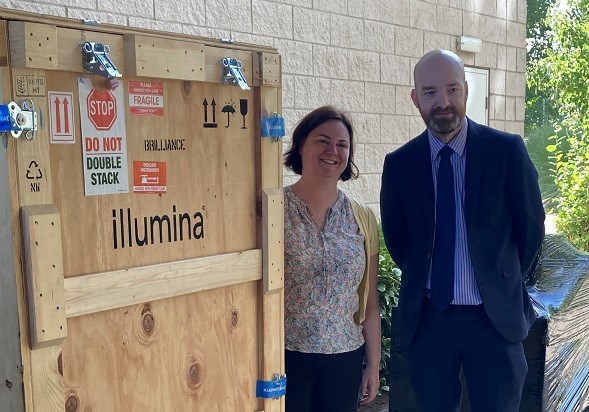 A transformational system for Whole Genome Sequencing has arrived at the NHS Exeter Genomics Laboratory, marking a momentous moment for research collaboration in the region.
The Illumina NovaSeq X Plus, a cutting-edge genetic sequencer, will be based in the Exeter Genomics Laboratory, a partnership between the University of Exeter, the Royal Devon University Healthcare NHS Foundation Trust, the Exeter NIHR Biomedical Research Centre (BRC), and the NHS South West Genomic Laboratory Hub.
The new sequencer can look at almost all of an individual's genetic information in a single test within 24 hours. The sequencer, provided by leading developer and manufacturer Illumina, made a grand entrance on Tuesday 22 August.
Once installed within the NHS Exeter Genomics Laboratory, the new technology will form an integral part of the dedicated joint NHS and university research facility.
Emma Baple, Professor of Genomic Medicine at the University of Exeter and Medical Director of the NHS South West Genomic Laboratory Hub, said: "This is a momentous moment for translational research in Exeter. We are excited to see the new discoveries and diagnostic innovations that will come from this pioneering new sequencer, which will enable us to provide more diagnoses for families affected by rare genetic conditions and ultimately improve outcomes for NHS patients."
The new sequencer is the first of its kind in an NHS Trust and will also increase capacity and reduce costs revolutionising the way we conduct research and diagnostics.
The purchase of the Illumina NovaSeq X Plus was made possible thanks to significant investment of £2.179m from the NIHR, part of which has funded the acquisition of the sequencer.