Fascinating links between world's most beloved writers on display across Exeter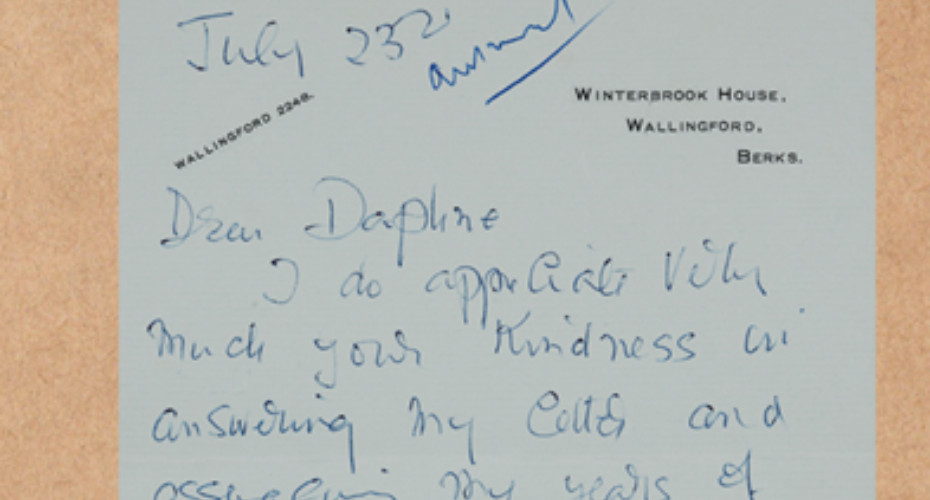 A major new Exeter exhibition offers an incredible insight into the connections between some of the world's most beloved writers.
Letters are on show throughout the city written by Daphne du Maurier, Agatha Christie, AL Rowse, Charles Causley and Jack Clemo. The notes – sent to each other – show their friendships and offer a fascinating glimpse into their private lives.
The University of Exeter's Special Collections is home to documents and letters from some of history's most cherished authors. Many had links to the South West and the exhibition shows how they regularly communicated with each other.
The exhibition, PenPals, opens today and is displayed in Exeter Cathedral, RAMM café, the Customs House on the Quay, the shop Bookbag, the Phoenix Arts Centre and the Exeter branch of Oxfam until the beginning of September. It is hoped the exhibition will encourage people to explore the University of Exeter's archives, which can be open to the public by arrangement. Some artefacts can be seen online.
The project is run by Sarah-Jayne Ainsworth and Milly Earnshaw-White. The exhibition also shows excerpts from the notebooks of the writers.
The exhibition boards can be seen separately, but the exhibition trail starts at the RAMM café, with a letter from A.L. Rowse to Charles Causley. It continues to the Custom House Visitor Centre, where Causley's letter to Jack Clemo is displayed. A letter from Clemo to A.L Rowse can then be seen next at Exeter Cathedral, followed by a letter from Rowse to Agatha Christie at the Exeter Phoenix. A letter from Christie to Daphne du Maurier can be seen at Oxfam Books & Music Exeter, and a letter from du Maurier to A.L. Rowse is at the Bookbag Bookshop Exeter
Daphne du Maurier lived in Fowey as an adult. The University of Exeter holds many of her letters and notebooks. The letter on display is to A.L Rowse, discussing the "depths of wickedness" which some of her female characters possess. She references her 1951 book My Cousin Rachel and a page from her notebook used as she drafted the novel is on show. She says: "I think myself that it is more fun to write about evil people than good, and I was always in two minds about Rachel anyway – I so thought myself into the part of young Philip and his naïve ways, that I kept wondering as much as he did!"
A.L Rowse, the Cornish historian, poet, diarist, biographer and critic was the first man from a working-class background to be elected Fellow of All Souls, Oxford. It was during this period that he established so many of the social contacts within the academic, political and literary circles within which he was to move for the remainder of his life.
Rowse was a prolific letter writer and there is correspondence between him and a number of well-known figures in the University of Exeter archive, including to John Betjeman, Jack Clemo, Antonia Fraser, Jacqueline Kennedy Onassis, Bertrand Russell, Margaret Thatcher and Harold Wilson. Letters on show from him are to Charles Causley, where he describes being "exhausted by all the Shakespeare rumpus" – his book Shakespeare the Man. Another letter was written to Agatha Christie and her husband Max Mallowan – one discussing his love of animals in response to a short story she had written about a donkey.
Charles Causley was a Cornish poet, teacher and broadcaster. He wrote to Ted Hughes, Siegfried Sassoon, Jack Clemo and Frances Bellerby. The letter on display is from him to Jack Clemo, the start of a long friendship in which he offers a copy of his poetry and congratulations on his books Wilding Graft and Confessions of a Rebel.
Reginald John 'Jack' Clemo was a Cornish poet and novelist. As a child he experienced two periods of blindness, and by the age of 19 he had lost almost all of his hearing. The University of Exeter holds all of his manuscript notebooks and typescripts for prose and poetry, diaries, photographs, reviews, news cuttings and correspondence. Included in his list of correspondents includes Charles Causley who was best man at his wedding. In the letter on display Clemo writes to Rowse, comparing his autobiography to Rowse's A Cornish Childhood. He says: "I've been pushed completely away from Cornish interest by abnormal circumstances, and this (Confessions of a Rebel) is hardly the autobiography of a Cornishman at all. I'm afraid it will be another disappointment and cause of annoyance to the "Cornish Celtie" group, they can't get any original or creative native talent to support them."
Agatha Christie, was born in Torquay and kept a holiday home near Dartmouth. The archive held at the University of Exeter Special Collections is from the offices of her agent Hughes Massie and Co. Ltd. and relates to Agatha Christie's literary estate. Throughout her career her literary agent was Edmund Cork, and these files were created by him to reflect his dealings with publishers, film-makers and other professional persons with an interest in the Christie estate. She wrote South West writers including Daphne du Maurier and A.L Rowse. The letter on display is from Agatha to Daphne in which she discusses du Maurier's novel Rebecca and the dramatization of her novel And Then There Were None. She says: "Nothing is more infuriating than wanting to get what you feel would be the matching name to a character you have already got. You solved the problem splendidly and certainly Rebecca has remained one of your most memorable books".