International artists and academics set to gather for four days of language and culture celebration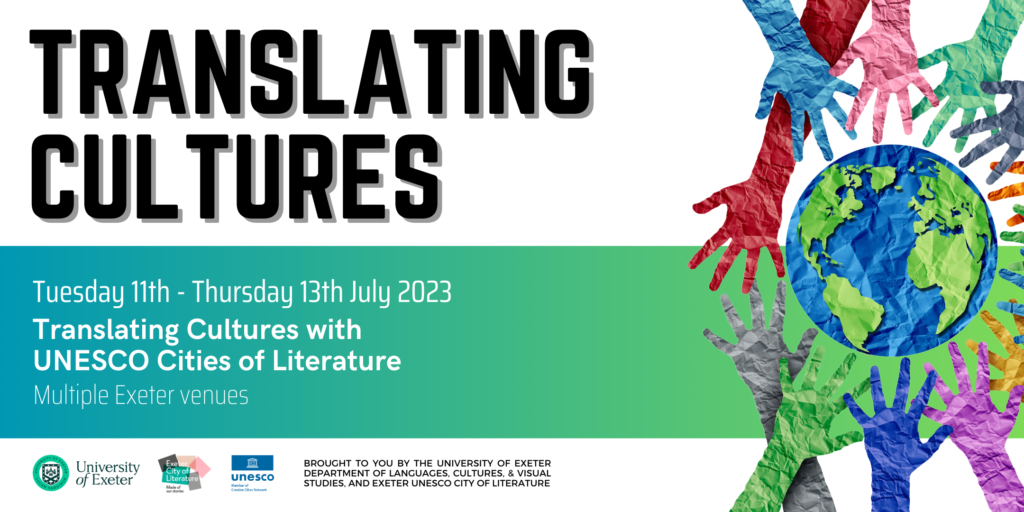 The diverse and varied ways in which languages and cultures are translated – from climate change and comedy to wartime poetry – will be the focus of a series of public events and a conference organised by the University with UNESCO Cities of Literature.
Translating Cultures will bring together academics and creatives from across Europe, with stand-up comedians and some of the country's leading authorities on the environment for a broad range of events across the city and on the University's Exeter campus.
They include readings and discussions with poets and artists involved with wartime poetry in Ukraine; a stand-up comedy workshop and performance focused on climate change; and conversations with renowned scientists Professor Tim Lenton and Professor Peter Stott.
The festival, organised by the University's Department of Languages, Cultures and Visual Studies in partnership with Exeter City of Literature, includes public events from the 11th-13th July at venues across the city as well as a symposium from the 10th -12th.
"The theme of 'translating cultures' runs through this diverse programme," says Hugh Roberts, Professor of French, and lead for the project. "Whether it's poetry in the face of persecution, or the challenge of communicating the issues around the climate emergency, we are looking at how languages and cultures are translated across different media, genres and subjects."
The subject of climate change is explored through several events in both the public programme and the conference. For example, on Thursday 13 July, at the Climate Action Hub, Professor Tim Lenton, Founder of the University's renowned Global Systems Institute, will discuss how the narrative of 'positive tipping points' can translate into empowering action.
On the same evening, Peter Stott, Professor in Detection and Attribution at the University and Science Fellow in Attribution at the Met Office Hadley Centre for Science and Services, will discuss the art of 'choosing words to save the planet' and the imperative of overcoming language barriers.
Award-winning comedian Charlie George will take part in two events – a comedy workshop on Tuesday 11 July with Dr Ina Linge, Senior Lecturer in German on day two of the symposium – and a stand-up show later that day at the Phoenix. There will also be sessions involving poet Professor John Clarke talking about his nature-inspired work, and members of the interdisciplinary team that has brought international arts projects to COP26 and 27.
The poetry of war-torn Ukraine, and the implications of the invasion for writers in the region, will be the focus of two events. Shielding the World from Evil, set for Maketank on Wednesday 12, will see Ukrainian authors reading their own poems and the work of others. On the same day, as part of the symposium, #FreeAllWords will involve a discussion with the managers of the literary-humanitarian initiative which was created after a wave of repressions swept across Belarus after Russia invaded Ukraine.
"With participants joining us from such a variety of countries and cities – from Lviv, Heidelberg, Tartu, Vilnius and Barcelona to name but a few – we are looking forward to bringing new insight and creativity to the city," added Professor Roberts. "And at a time when cooperation and collaboration has never been more important in meeting the urgent climate and societal challenges we face, so the issue of how we translate across languages and cultures in order to reach new audiences only grows in importance."