Exeter Science Centre and University of Exeter sign Memorandum of Understanding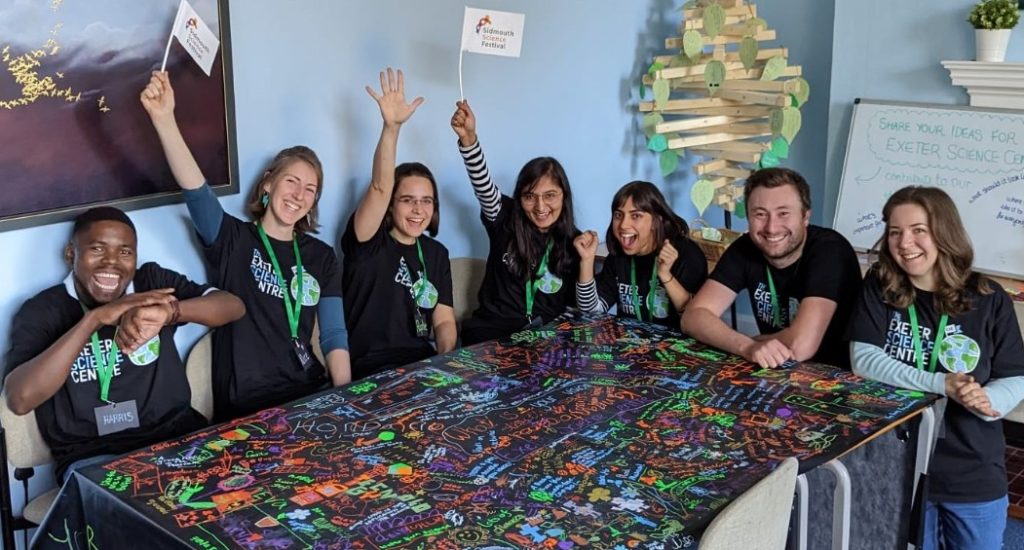 Exeter Science Centre and the University of Exeter have signed a Memorandum of Understanding (MOU) to further their shared ambitions to make a difference in Exeter and the wider region.
Both organisations have been collaborating since Exeter Science Centre's inception, with University of Exeter academics forming part of their trustee board and working together on public engagement activities.
Since then, the University's world-leading research has been a regular feature of Exeter Science Centre's projects, and as the charity grows over the next few years this MOU will formalise their partnership, and support each other's goals to create a positive future through education and bridging the gap between research, industry and the public.
The MOU acknowledges the intention of both organisations to develop the following common objectives:
Promoting and furthering education and learning.
Increasing public engagement with research in the fields of Science, Technology, Engineering, Arts, Maths and Medicine (STEAMM).
Showcasing and communicating STEAMM research & industry to the public.
Highlighting local research & industry.
Contributing to the educational, social and cultural benefit of the city of Exeter and the whole of the South West region.
The MOU also highlights potential development opportunities to further these objectives, which include:
Volunteering and internship opportunities for University of Exeter students at Exeter Science Centre.
Collaboration on research projects.
University of Exeter academics working with Exeter Science Centre on public engagement programmes, to help better connect local and regional communities with University of Exeter research in the sciences.
University of Exeter providing support for Exeter Science Centre's organisational growth.
Partnering in the establishment of a science centre in the city of Exeter.
As part of their ongoing partnership, the Deputy Vice Chancellor for Business Engagement and Innovation, Stuart Brocklehurst, has agreed to Chair Exeter Science Centre's new Strategic Advisory Board, with a particular focus on creating the science centre building as well as guiding the organisation's overall trajectory.
He said: "The University of Exeter is keen to play an ever greater role across the region, translating our world-class research and education into tangible impact and supporting the ongoing economic, social and cultural development of South West England.
"Exeter Science Centre will be crucial in promoting public engagement with STEAMM subjects and making them readily accessible to the wider public. Personally, I'm inspired by the vision for the project, and delighted to be involved in seeing it through to fruition."
Exeter Science Centre is led by two Founders and Directors, Dr Natalie Whitehead and Dr Alice Mills.
Natalie said: "We are delighted to have the MOU established with the University of Exeter. Our mission as a charity is to educate, motivate and empower the public to make a difference in the world, and we strongly believe that by connecting the public with research and industry we can more effectively work together to tackle global issues. This alliance will help to support our development in the years to come, as well as making a stronger connection between the communities we engage with and the world-leading research being carried out right here in the region."
Alice said: "We look forward to sharing expertise and resources between our organisations, as we work together in creating an exemplary new kind of science centre for everybody across the South West and delivering impactful outreach and engagement programmes."
To find out more about Exeter Science Centre's work, including their upcoming Climate Exhibition based on University of Exeter research, visit: https://exetersciencecentre.org/