Students support youth empowerment after completing unique internship with leading social media influencer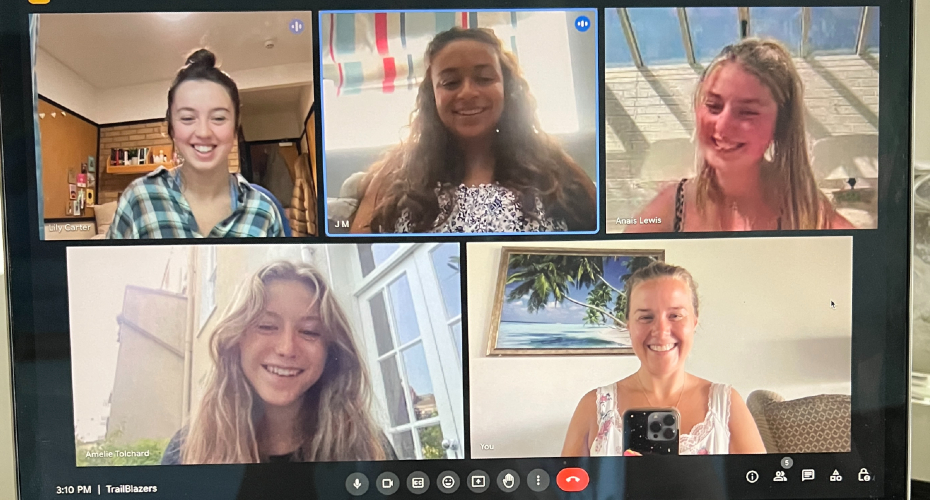 A team of students from the Faculty of Humanities, Arts and Social Sciences has completed an inaugural internship with a renowned social media influencer in support of youth empowerment and personal development.
Four undergraduates from the Faculty's Communications degree partnered with Sophie Storm Roberts on her TrailBlazers project that seeks to build confidence and courage in teenage girls.
Estelle Nelson, Anais Lewis, Amelie Tolchard and Lily Carter, a mix of year 2 and 3 students, spent more than three months working with Sophie to create, develop and execute social media campaigns to support her work, as well as gain experience of marketing and events development.
The quartet, who secured the internship through a competitive application process, completed it both remotely and in person with Sophie and at some of the events she was supporting.
"I was moved by TrailBlazers, and its meaningful mission to empower young girls by giving them confidence through workshops, talks and social media," said Anais (BA English and Communications), who had the opportunity to attend a Communication Essentials conference with Own the Room, in London, during the internship. "My favourite aspect was having the creative freedom to truly make an impact. I have taken so much away from the internship, having learnt so many new skills creating, editing and posting content, identifying target audiences and being up to date with current trends."
"Being a part of TrailBlazers was an enriching experience from start to finish, not just from the viewpoint of developing a social media campaign, but also from working with Sophie and the rest of the team," added Amelie (BA Communications). "While TrailBlazers is all Sophie's conception, we were given free rein over what we wanted to do with the social media, and this helped massively when it came to development. The team had a mutual understanding and passion for what TrailBlazers stood for, and Sophie's trust in this fostered a creative safe space where we could all bounce off each other's ideas. It was exciting and rewarding to see our creativity take the campaign forward."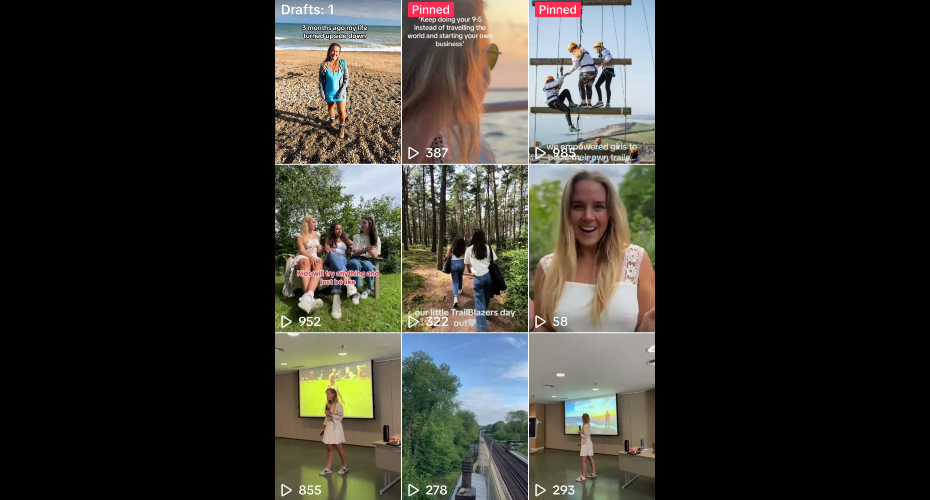 Known for her work as a social media influencer, adventure athlete, mindset coach, and motivational speaker, Sophie has built a community of 100,000 followers and works with brands including Adidas, GoPro, Oakley, Land Rover and Kellogg's. She founded TrailBlazers in 2017 with a goal to help teenage girls develop resilience and self-belief to help them to navigate the modern world.
"My mission with the TrailBlazers internship was to create an opportunity and environment where the girls could learn to lead," said Sophie. "They had my support, but this was really about them being in control and running the show themselves. They created a TikTok account and a wide range of social media posts from informative carousel posts made on Canva, to 'A Day in the life of a TrailBlazers Intern' sharing who they are, why they are passionate about TrailBlazers and what their role involves."
Sophie has previously been a guest speaker on the 'industry insights' series, which features on the 'Communications in the Workplace' placement module. This led to conversations around how students could work with Sophie, and that resulted in the internship being formulated.
Dr Alexander R. E. Taylor, who convenes the Communications programme's work placement module, said: "It's been great collaborating with Sophie to provide our students with a unique internship opportunity that enables them to develop valuable transferable skills by engaging in a creative project that's evincing real-world, meaningful change."
There are now plans for some of the students to continue working with Sophie on Trailblazers.
You can follow Sophie on Instagram @ChallengeSophie and keep up to date with the Trailblazers programme on Instagram and TikTok @wearethetrailblazers!