University of Exeter research on digital healthcare inequalities showcased in Parliament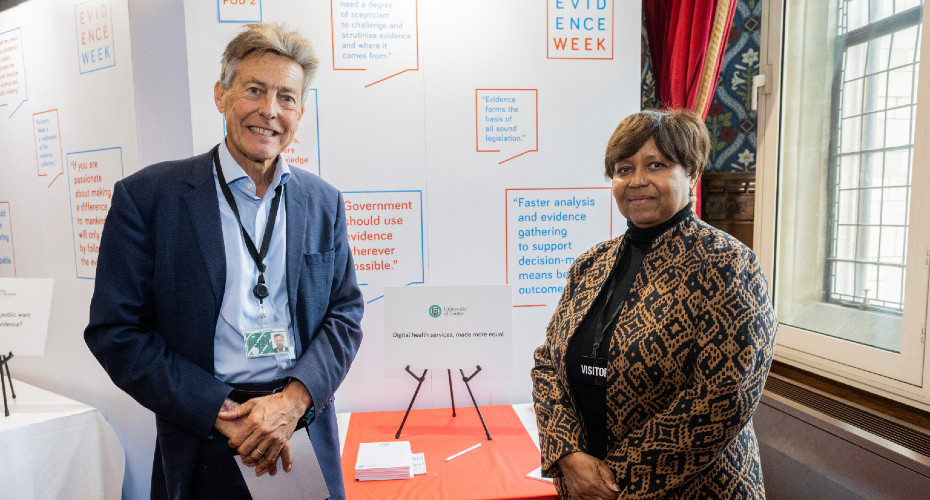 University of Exeter research on the impact of digital access and artificial intelligence in healthcare has been showcased to MPs and peers in Parliament.
Technology is increasingly being used to transform the treatment of disease and illness. But these tools don't reach people equally, and those in rural areas, the elderly and poorer communities are not as likely to have access to them.
Robin Pierce, Professor of AI and the Law at the University of Exeter Law School, is investigating the implications of the digital divide for health outcomes, now and in the future. She presented her work as part of the Sense about Science Evidence Week in Parliament.
Professor Robin Pierce presented their findings to, amongst others, Ben Bradshaw MP, Caroline Nokes MP, Chris Green MP, Anne-Marie Morris MP, Baroness Young of Hornsey and Derek Thomas MP, equipping them with vital information to inform the decisions they make on future policies for digital health services.
Professor Pierce said: "Evidence Week provided the opportunity to extend the reach and potential impact of my research. For me, this was a particularly rewarding experience because it was very much a two-way exchange with the MPs. I gained invaluable insights about political realities and priorities of various constituencies pertaining to my research area, all of which are factors in making meaningful change."
The UK has taken transformative steps toward improved access to health care through the deployment of digital health technologies such as the use of apps and computer systems to monitor health data and share test results. This also serves as a crucial step toward the streamlining and increased efficiency of healthcare through the introduction of AI technologies.
Professor Pierce said: "We know technology doesn't reach the population evenly – particularly those in rural and deprived areas and the elderly. Not only does this disadvantage persons who are not able to utilise current digital health technologies, these digitally marginalized populations will miss out on future technologies that utilise digitally collected data. If this continues, future technologies, like AI, will perform less well for these people and they will be further marginalised.
"What is needed is a multi-level policy approach to steer equitable delivery. There is a pressing need to expand the policy portfolio to address the troubling trends of rural populations, the elderly, and deprived persons falling behind in digital health and, as a result less likely to derive the full benefits of the AI revolution in health care. Taking action to steer universal digital health uptake is essential for both the short term and long-term health of the UK population."
Professor Pierce's current research focuses on policy and regulatory approaches to the integration of digital technologies in health, medicine, and the life sciences and policy strategies to address health inequities. She has served on advisory boards for several health technology related and life science research initiatives in Europe and North America.
Evidence Week, now in its sixth year, is run by the campaigning charity Sense about Science and the Parliamentary Office for Science and Technology (POST), in partnership with the House of Commons Library, House of Lords Library, Ipsos, the Office for Statistics Regulation and researcher institutions from across the UK. During the week, MPs meet with leading scientists to get the latest insights on pressing issues covering topics as varied as housing, food supplies, energy, health and inequality. It is an opportunity for the public, parliamentarians, and researchers to come together to share knowledge and insights. It empowers legislators to engage with evidence and equips them with the critical tools to handle uncertainty, identify bias and scrutinize underlying assumptions.