Exeter experts at The Alan Turing Institute's AIUK conference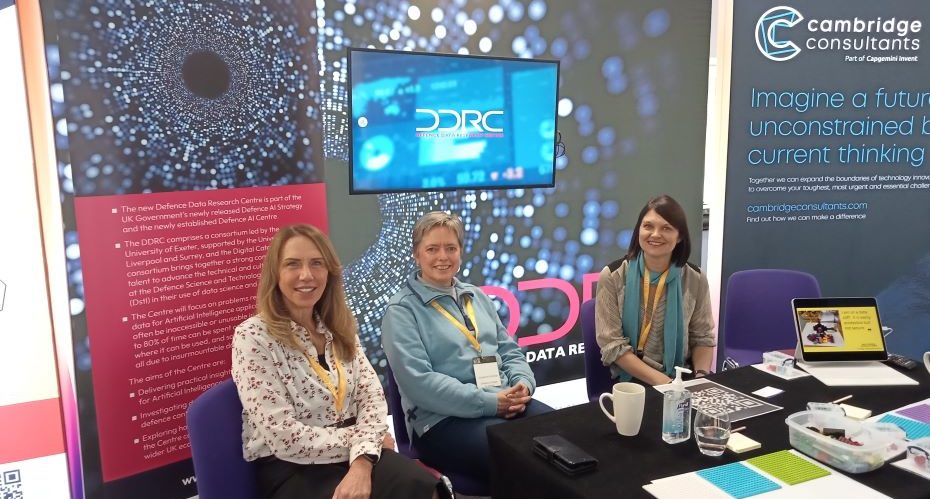 Experts from the University of Exeter are showcasing their pioneering research that uses AI and Data Science to solve some of the world's most pressing challenges, at a high-profile national event.
Researchers from Exeter's Institute for Data Science and Artificial Intelligence are taking part in The Alan Turing Institute's AIUK conference 2023, in Westminster on March 21-22 2023.
The Exeter team will focus on their ground-breaking work in health, the environment, defence and in using data science to understand how to make decisions under uncertainty during the conference.
Professor Richard Everson, who is the Turing University lead for the University of Exeter , said: "The University of Exeter collaborates with the Alan Turing Institute and across the Turing network on a wide range of interdisciplinary research areas and in advancing the national conversation around data science and AI ethics and policy.
"We are delighted to attend the AIUK and to demonstrate some of Exeter's data science and AI research programmes in the important research areas of environment, health, defence and decision making under uncertainty.
"We look forward to working with the Turing and the Turing University Network in the future, as the role of data science and AI in our society continues to grow, opening up many new opportunities and touching our lives in new ways."
Exeter is represented at four of the main stands throughout the conference.
Dr Mike Allen, alongside Kerry Pearn and Dr Anna Laws, is presenting his research on the SAMueL (Stroke Audit Machine Learning) project on the Health Stand.
Stroke is a major cause of death and long term disability. Use of clot-busting drugs (thrombolysis) to help prevent the effects of stroke varies very significantly between hospitals in England and Wales, with use ranging from 5% to 25% of patients.
Dr Allen's research uses machine learning models to help identify which patients may experience thrombolysis in each hospital. Additionally, the team have developed detailed stroke outcome models, that predict likely disability depending on whether treatment is given and when that treatment is given.
Dr Dawn Scott; Professor Hywel Williams, and Dr Matt Thomas – with colleagues from the Met Office – will showcase the work of the Joint Centre for Excellence in Environmental Intelligence with the Met Office. The team will showcase work on its flagship Climate, Impacts, Mitigation, Adaptation and Resilience Framework (CLIMAR), while attendees will be able to interrogate CLIMAR in real time using interactive Apps, and then discuss their findings with leading researchers from the University and Met Office.
On the Defence stand, Dr Zena Wood will showcase the work of the new Dstl funded Data Defence Research Centre (DDRC), a collaboration with the Universities of Liverpool and Surrey. The transdisciplinary centre brings together expertise in data science, computer science, and social science to improve the use of data in the defence community. DDRC focuses on advancing technical and cultural capabilities at the Defence Science and Technology Laboratory (Dstl) in their use of data science and AI. The DDRC demonstration will focus on the ongoing projects that are being undertaken by DDRC.
Professor Peter Challenor will highlight his research on Uncertainty Quantification on the Decision Making Under Uncertainty stand. This research is about how decisions are made from models and particularly how the uncertainty around the models can be quantified to enable complex scenarios to be assessed.  This approach can be used in a wide range of different contexts including health situations, such as informing decisions affected by an infectious virus, or in environmental scenarios when making decisions about where to plant trees to maximise environmental and societal benefits.
The University of Exeter Institute for Data Science and Artificial Intelligence (IDSAI) provides a hub for data-intensive science and artificial intelligence (AI) activity within the University and the wider region.
IDSAI's vision for data science is to innovate new means of interrogating and understanding data and then to innovate and apply cutting-edge data analytical methodologies to diverse questions The Institute is truly interdisciplinary, with associated data scientists, mathematicians, and computer specialists based across all of our Faculties, Research Institutes, and Departments.‌
For more information please visit Institute for Data Science and Artificial Intelligence | Institute for Data Science and Artificial Intelligence | University of Exeter
---