New Photographic Display Captures the More-Than-Human Stories of the Climate Crisis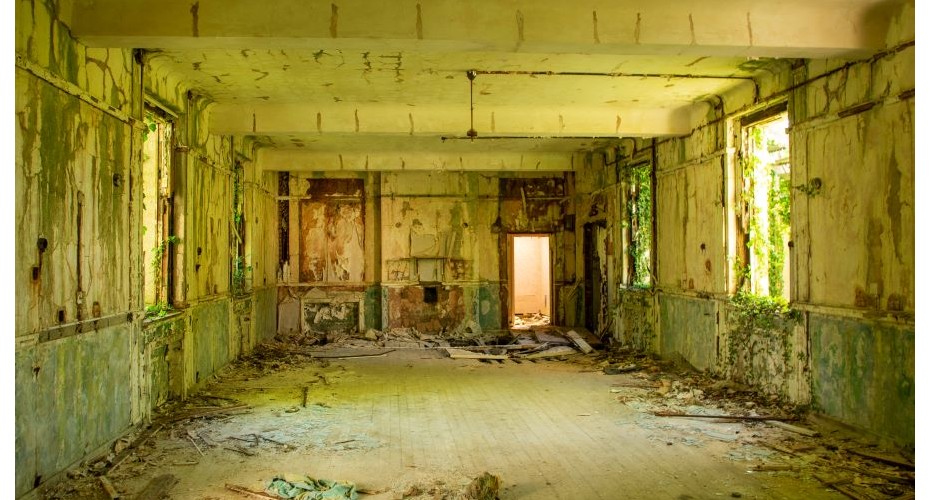 Between May and July this year, the University of Exeter's Queen's Building display space will be home to twelve stunning large-scale limited edition photographic prints by photographer and University of Exeter Professor Corinna Wagner, and Canadian artist and PhD candidate Tara Nicholson.
Brought to Exeter through an international collaboration between the University of Exeter and the University of British Columbia Okanagan, the display, called 'Wicked Problems', forms part of a much larger research project called 'Humanities in an Age of Planetary Agenda-Setting' which explores how humanities research can engage with the opportunities and challenges posed by planetary agenda-setting and the global challenges they confront.
Project leads, Dr Ina Linge and Professor Paul Young from the University of Exeter said "It's possible for many Humanities scholars to align their research with one or more of the United Nation's Sustainable Development Goals. But we want to encourage this kind of alignment to be active rather than passive, in terms that shape agendas rather than simply following them. And we also want to encourage Humanities scholars to draw on their research to show why such planetary agendas might need to be revised, or perhaps even resisted."
Through captivating photography, this new display seeks to explore the more-than-human-stories of what is being described as the sixth mass extinction of Earth – the first caused by human activity. Featuring images of abandoned buildings and remote science stations, frozen tundra and burned-out landscapes, the work in the display asks us to act now, on climate crisis and to stop rapid loss of biodiversity.
Project collaborator and Associate Dean of Graduate Studies and Research Professor Jodey Castricano at the University of British Columbia Okanagan added "In this collaboration we draw upon literature, oral histories and visual and creative arts to claim a seat for the Humanities and arts at the table of planetary agenda-setting, especially in the realm of the "wicked" problem, which by definition is a social or cultural problem that's said to be difficult or impossible to solve because of its complex and interconnected nature. I'm very encouraged by such collaborations that allow meaningful participation by Humanities and arts in seeking global and local participation in problem solving."
Corinna Wagner is a photographer and Professor of Visual and Literary Arts at the University of Exeter. Her work combines image and text, especially photography, poetry and creative non-fiction.
She said "This collaboration has brought together research and scholarship, and visual and creative arts, in order to bring about change in thinking and acting on environmental issues and sustainable development goals. Humanities and arts approaches are particularly good at developing creative methods of problem-solving as well as inspiring people to make positive change in their communities. This project has allowed me to work across borders, with fellow artist Tara Nicholson, to exhibit work from our place-based research in Arctic Russia and Greenland, the Canadian interior, and British coastal communities. Our artwork demonstrates the global and local dimensions of climate crises and emphasises the need for greater global and local cooperation to face problems."
Tara Nicholson is a Canadian artist and PhD candidate at the University of British Columbia Okanagan whose photo-based practice explores ecological activism through a more than human lens.
She added 'I am excited to exhibit my work for the first time in the UK with Corinna Wagner, a similarly focused artist. I am honoured to be part of the UBC Okanagan-Exeter Catalyst Grant as it is an important opportunity to bring researchers together internationally with the hope of producing more-than-human future thinking within the time of Earth's sixth mass extinction.'
The project team are also running a series of events alongside the display including a launch event, eco-art workshop and symposium. You can find out more here.
'Wicked Problems' will be available to view in the West Wing Foyer of the Queen's Building (next to Queen's cafe) on the University's Streatham Campus from 3rd May – the end of July 2023. A digital version will also be able to view on the Arts and Culture website from the 3rd May. You can view it here.