Father's campaign helps unlock genomic research answers for son with rare condition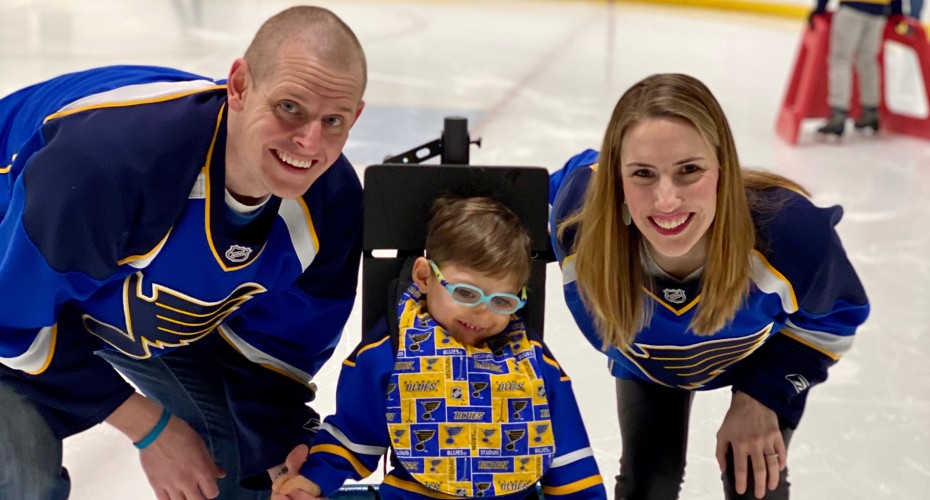 A father has used his medical knowledge as a physician's assistant to piece together seemingly unconnected global research and compel academics to advance the work. Now, he is celebrating a significant breakthrough.
Joe Walsh, from St. Louis, Missouri, has worked tirelessly to find answers and to progress treatment hopes for his six year old son, Landon, who was born with a rare brain developmental disorder. His campaign has established a charity and connected far-flung research studies to build the case that a specific gene alteration causes Landon's condition. His work has progressed research to define this new disorder, and better understand the molecular processes important for normal human brain development.
Joe's efforts connected geneticists at Washington University in St. Louis School of Medicine (WUSTL), the University of Exeter (UK), the Arab American University Palestin, and the Nationwide Children's Hospital (Columbus, Ohio). Together their work established that spelling changes in a gene called CAMPSAP1 are the cause of Landon's condition, and that of the other children in the study. This knowledge of the molecular basis of the condition brings the case for a new treatment closer.
Joe and his wife, Lauren (also from St Louis, Missouri), were first alerted that Landon would have health issues during Lauren's pregnancy, when ultrasound picked up brain abnormalities. Further scans discovered that his brain was much smaller than it should be, and that part of his brain had not formed properly. Experts were uncertain whether he would survive birth.
Landon's extremely rare genetic condition means he is subject to sudden spasms and seizures. In 2018, genetic testing revealed that Joe and his wife Lauren both carried variations – or spelling changes – in the CAMSAP1 gene. The family was told that this might be the cause of Landon's medical issues – however as changes in the CAMSAP1 gene were not known to cause disease, this was uncertain. Nothing more could be done until research was progressed, which could take years.
Joe, who practices at the Department of Neurological Surgery at WUSTL, said: "I remember that phone call so vividly. We were told, 'there is nothing you can do, we'll revisit this in two years, and try to have a good rest of your day'. I looked at Lauren and her face just crumpled. We were experiencing a plethora of emotions, but most of all we felt extremely helpless, and I couldn't accept that. Eventually something clicked in my brain, and I set out to prove them wrong."
Joe spent the next months tirelessly Googling to learn about CAMSAP1, and the proteins with which it interacts. He painstakingly pieced together global research which looked at the function of the gene.
Alongside his research, Joe and Lauren had been working hard to establish Landon's League Foundation, a charity which supports the development of treatments for rare genetic diseases as well as families of children with rare genetic conditions by providing equipment to help activities of daily living.
Meanwhile, Joe had also been trying to identify other families who may have the same CAMSAP1-associated disorder, using tools including social media and medical genetic databases. "At this point I was in three roles for Landon – father, health professional and researcher. Everything I did involved providing and caring for Landon while trying to find answers. For a while I felt adrift in my own boat, but the researchers around me provided a lifeline."
Joe connected with Professors Emma Baple and Andrew Crosby at the University of Exeter (UK), and Professor Reham Nazzal at the Arab American University Palestine (AAUP), who had been working on this condition together previously. The researchers identified other families, including a Palestinian family with three affected children, a Turkish child, a child from Saudi Arabia, and two other children from the USA, bringing the total number of children known to have the condition to eight. The Exeter and AAUP teams contacted Dr Rolf Stottmann and the Columbus team to work together and use cutting-edge cell and genetic techniques to investigate CAMSAP1 function in more detail. Their collaborative work confirmed the role that the CAMSAP1 spelling alterations play in causing disease, enabling the condition to be described in the medical literature and confirming Joe's suspicions.
Dr Stottman, of Nationwide Children's Hospital, said he was "thrilled" to be connected with the Exeter team and to progress the research. He said: "We were fortunate to be able to contribute our experiments on the human cell lines and animal models of CAMSAP1 loss of function to this publication. We hope to further exploit the power of these experimental systems to understand the consequences of reduced CAMSAP1 function and best inform future studies on potential therapeutic interventions."
Professor Emma Baple, of the University of Exeter, UK, said: "This study will enable children like Landon to receive a much needed diagnosis in the future enabling treatment to be more appropriately targeted, and is the first step in understanding the biological cause of the condition.
"When I received the initial email from Joe, I could barely believe what he had achieved – it was incredibly moving. Joe's passion and dedication to finding answers for his son Landon and other children affected by the same condition is truly inspirational. It's hard to put into words how hard Joe has worked to try and bring people together to find answers for his son and how dedicated he has been in terms of trying to support other families.
"He and his family have driven this work forward from the beginning, and we're delighted to be a part of his story. I will never forget his words to me the day this paper was published "YOU JUST MADE MY YEAR!!! Please allow me to take the rest of the day to be Dad."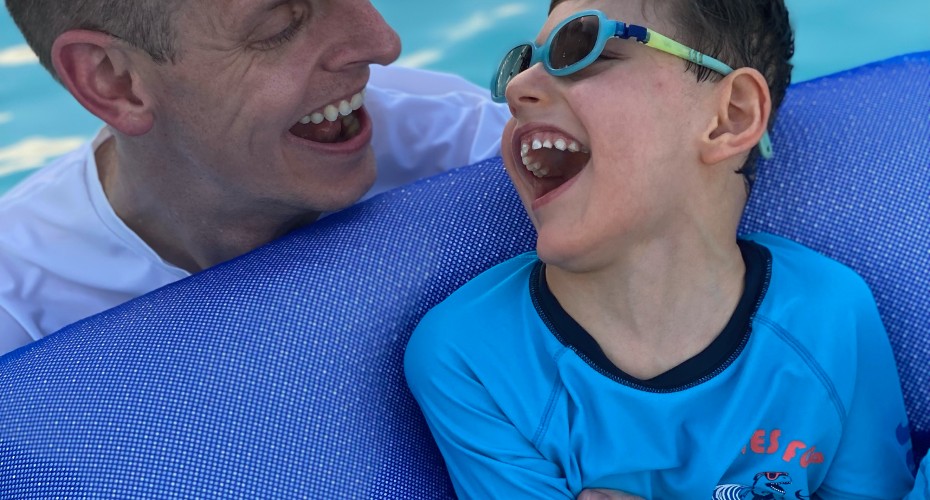 The team found that CAMSAP1-related condition is linked to a well described group of disorders of brain development called the 'tubulinopathies', which explains the specific brain abnormalities seen in patients. For Joe, this provides an explanation for some of Landon's movement spasms.
With the support of Landon's League Foundation, the research team successfully generated and studied neuron-like cells created from stem cells (iPSCs) that were created from blood drawn from Landon and his parents. They also generated mice with no functional CAMSAP1, forming a significant step on the research journey to understand the molecular basis of the condition to ultimately develop a treatment that could work in humans.
Joe said: "It's incredible to see this research moving forward. We felt we were never going to attract interest from big pharma, because it's such a rare condition and there's no money to be made. I was lucky that I had the underlying medical training that allowed me to upskill on how research works and create this evidence base, and I'm so grateful to the researchers who have taken this forward. I want to accelerate the research timeline and see a cure, or at least a safe and effective treatment, for Landon and the other affected children as soon as possible."