Exeter apprentices shortlisted for Multicultural Apprenticeship Awards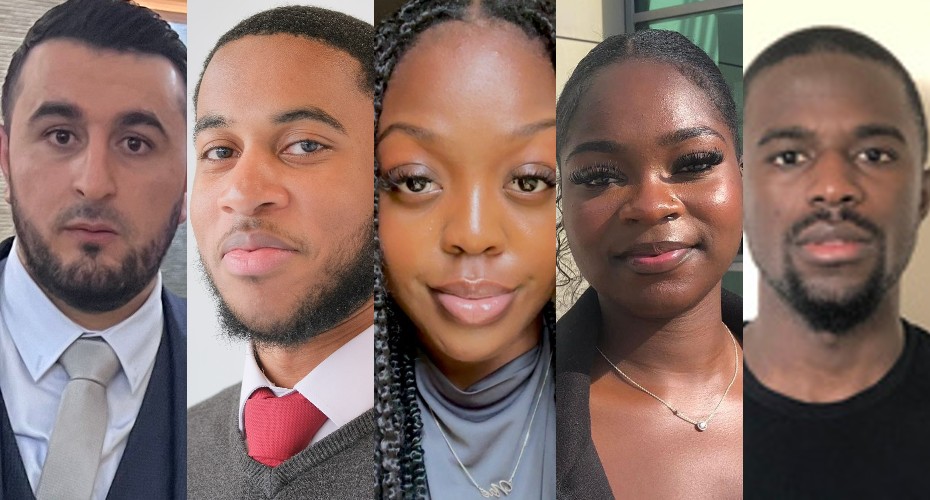 Six talented and inspiring individuals on Degree Apprenticeship programmes at The University of Exeter will soon find out if they have been successful at the Multicultural Apprenticeship Awards.
The University of Exeter, which is the largest provider of degree apprenticeships in the Russell Group and which last week launched a new Centre for Degree Partnerships, has six apprentices shortlisted for the awards, which celebrate those from multicultural communities who have worked hard to overcome adversity through apprenticeships.
Ranga Nhemera, Mamadou Kone, Ahmad Smism and Naomi Ogundiran have been shortlisted in the Transport and Logistics category.
All four are on the Chartered Manager Degree Apprenticeship programme, and combine studying for the University of Exeter Business School's BSc Responsible Business Management programme with full-time jobs working for Amazon.
Ahmad is a 29-year-old Syrian national who moved to UK in 2015 with few academic qualifications and only a basic level of English. Now working in Coventry as a Team Leader, he says his degree apprenticeship has been "really beneficial" and a "big opportunity to develop my leadership skills and get the knowledge needed to perform well in my work and enable me to get a promotion".
When Naomi relocated from London to Manchester to start her apprenticeship at the age of 18 she found adjusting to a new city, a new environment and new routine "really scary at first" and battled with impostor syndrome due to being the youngest on her leadership team and the only Black woman.
But she has never looked back and says her apprenticeship has helped her become the leader she is today, adding: "I no longer face impostor syndrome because not only did my colleagues encourage and provide me with recognition, I myself was able to recognise the progress I had made as a leader and the value I add to my team and working environment."
Mamadou spent much of his childhood and teenage years pursuing a career in football, and when that didn't materialise he turned to degree apprenticeships as a way of accessing higher education and developing the skills necessary to forge a promising career.
A year into the programme, Mamadou has received a promotion and is overseeing a team of 100. He said he can "only imagine the immense value this experience will bring to my professional journey".
Ranga has been excelling in his studies, and although balancing work and studying has proved challenging he feels the experience is opening doors for him and will put him on course for a senior leadership role in the future. "You never know where a qualification like this will take you, it gives you so many different options," he said.
Juwon Davies, 21, has been shortlisted in the Accounting and Finance category. She is enrolled on the BSc Applied Finance Degree Apprenticeship programme and combines studying with a job at UBS in London, where she is training to become a fixed income portfolio manager.
During her apprenticeship, Juwon has mentored school students, and been a panellist, mentor and speaker at events promoting diversity, inclusion and apprenticeships, including the BYP Leadership Conference 2022 and Career Ready.
There is also a nomination for Nathan John, a Data Visualisation Analyst at IBM, in the Digital and Technology category.
Nathan, who is in his second year of the Digital and Technology Solutions Degree Apprenticeship, has been praised as a "leader in increasing the visibility of alternative career paths for young people from all backgrounds" who "volunteers to both lead and participate in a wide range of diversity and inclusion giveback".
The Multicultural Apprenticeship Awards aim to highlight both the achievements of apprentices and the contribution of employers and learning providers who have assisted them along their journey.
Rachael Johnstone, Associate Dean for Taught Students and Director of the Centre for Degree Partnerships, said: "These exceptional apprentices are well-deserved nominees for the Multicultural Apprenticeship Awards, and we are so proud of what they have achieved so far on their apprenticeship journeys: making the most of the opportunities that come their way, showing resilience and determination, and using their platform to ensure other young people are aware of the brilliant opportunities available with an apprenticeship.
"Degree apprenticeships are accessible to everyone and can transform careers. I can't wait to see what these six apprentices end up doing in their careers, and will be keeping my fingers crossed when the winners are announced!"
The winners of the Multicultural Apprenticeship Awards will be announced on 5 October.