Oceanographer recognised for contribution to marine geology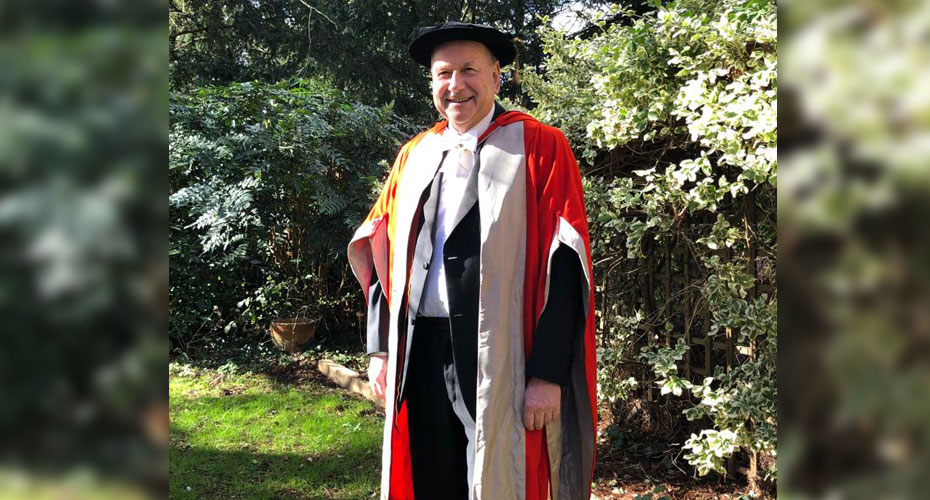 The University of Cambridge has recognised Professor James Scourse's research in marine geology by awarding their highest academic accolade, a Doctor of Science degree (ScD).
Professor Scourse was presented for the ScD degree by St John's College, Cambridge, where James studied towards his PhD, between 1981 and 1984, on the Quaternary stratigraphy and palaeoenvironments of the Celtic Sea, Isles of Scilly and West Cornwall.
The accolade recognises Professor Scourse's research in the field of marine geology, in particular, in the study of how the oceans have evolved over recent geological time.
The history of the oceans can be found in seafloor sediments – tiny particles of rock and organic material that settle and accumulate on the ocean floor – as well as encoded by nature within larger organisms, such as shells.
James leads a research group who pioneered the development of sclerochronology and scleroclimatology, reconstructing the marine climate using very long-lived annually banded molluscs. In 2007 they discovered the longest-lived animal known to science, a quahog clam from the north Icelandic shelf, aged 507 years.
James a Professor of Earth Systems Science, and Head of the Department of Earth and Environmental Sciences, at the University of Exeter based on the Penryn Campus in Cornwall said:
"It was a pleasure to return to St John's College and an honour to receive this degree. It is hugely rewarding to have the work, that I and my current and past teams have and are doing, to understand the marine environment recognised.

We are working on reconstructing the ocean's history. We have focused until recently on reconstructing the physics of the ocean – changing water temperature, salinity, circulation and sea level – but our current research has expanded to reconstruct changes to marine ecosystems in response to human pressures. The ocean floor holds the key to understanding how depleted the current marine environment is, what measures are needed to help biodiversity to recover, and how long this might take."
James is currently the Corresponding Principal Investigator in the European Research Council SEACHANGE Project leading the marine research cruise campaigns to deliver analyses of marine sediment sequences and sclerochronological data. He is also lead researcher on the Convex Blue Seascape Survey, a global research programme aiming to build a greater understanding of the properties and capabilities of the ocean and its continental shelves in the earth's carbon cycle, in the urgent effort to tackle climate change.