Emily celebrates becoming the third generation of her family to graduate from the University of Exeter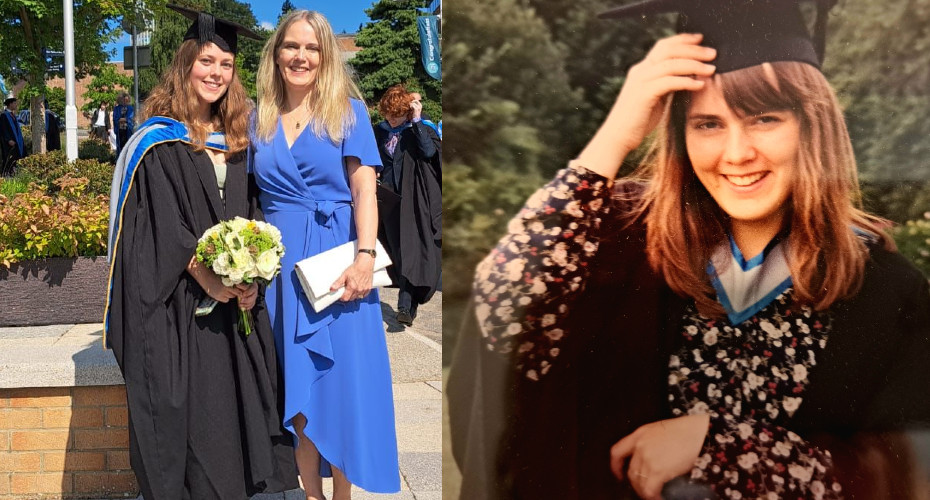 When Emily Simons graduated from the University of Exeter she was following what has become a unintended family tradition – following in the footsteps of both her mother and grandfather.
Emily is the third generation of her family to graduate from the university. Her late grandfather Christopher Webb secured a degree in maths, physics and chemistry in 1960 while her mother Heather Simons graduated with a mathematics degree in 1992.
Mrs Simons said: "As soon as Emily came to Exeter she felt at home, it definitely wasn't due to me that she chose it. We came to look around together and I was very careful to wait for her reaction before saying anything, and I was so pleased when she decided to come to Exeter.
"I picked Exeter because it was one of the best places to study maths, and I knew my father had had a good time, although he didn't talk about being a student much. I loved my time at Exeter, and so has Emily, and we are really proud to have studied there. We enjoyed our courses, made lovely friends and had many fun nights out. There can't be many families with three generations of Exeter graduates."
Mrs Simons, who is from Woking, studied at the University of Exeter from 1989 to 1992. After graduating she became a pensions actuary and now works as a Learning and Development Manager for the XPS Pensions Group. She and husband Tim have two other daughters, Isabel, 19, who is studying physiotherapy at the University of East Anglia, and Maddy, 17, who is studying for A-levels.
Emily studied for a degree and masters in physics and will work for the Bank of America as a risk analyst, a job secured after she completed an internship for the company last summer. Her master's dissertation was on the use of physics in the diagnosis of cancer using non-linear optics.
During her time at the University of Exeter she was a member of the Cricket Society and danced in her spare time, as well as being a student ambassador, showing potential students around campus.
Mrs Simons lived at the Birks halls of residents and in houses in Danes Road and near the Quay, was secretary of the Maths society and an enthusiastic member of the Bellringing Society. She rang bells at St Michael and All Angel's Church in Heavitree and Exeter Cathedral.
Mr Webb, who was born in 1939, was originally from Honiton. After graduating he began working as a radar engineer for ships and submarines for the company Decca, later called Racal ,, later becoming a director of the company. He married Genebeth and had three children, Heather, William, who is telecommunications engineer and a visiting professor at the University of Southampton, and Matthew, who studied politics and worked for the Ministry of Justice. Genebeth later completed a degree too via the Open University.ehEAV
Before graduation the family will stay in Holland Hall, where Emily lived during her first year
Emily said: "My physics lecturers were amazing especially Pablo and Eric. I had such an amazing four years and met some of my best friends."