Public consultations to be held at the University of Exeter for new student accommodation plans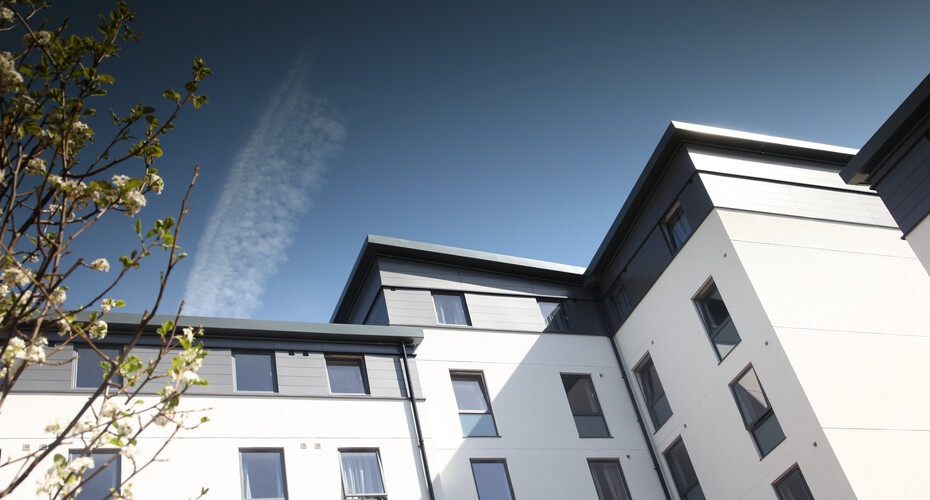 Following the announcement of proposed plans to build over 1,700 new, low carbon student bedrooms on Streatham Campus in October, the University is now launching public consultations on the detailed designs.
In October, the University of Exeter took an important step forward in the delivery of new, modern, low carbon student accommodation on the West of their Streatham Campus in Exeter, by appointing University Partnerships Programme (UPP) as the preferred contractor to progress plans to the next stage.
In accordance with the Outline Planning Approval, the project plans to replace existing buildings in the Clydesdale, Nash and Birks Village area to make way for the new West Park student residences, as well as refurbishing rooms in the Birks Grange Village. The University's Grounds Compound will also be relocated as part of this development, from the West of campus to the Northeast, at the top of Rennes Drive.
The University is holding public consultations and invites local residents and communities to view the detailed designs on the project. Public consultations will be held on the following dates and for the following stages of the project:
Tuesday 22 November 2022: West Park project and Birks Grange Village refurbishment
Wednesday 23 November 2022: New Grounds Compound
The consultations events will be held in The Innovation Centre at the University of Exeter, Rennes Drive, Exeter, EX4 4RN. The Innovation Centre is Building 25 on the Streatham Campus map: www.exeter.ac.uk/visit/directions/streathammap
The sessions will run from 3.30pm to 8pm on the above dates and members of the project team will be in attendance to listen to feedback and answer any questions attendees may have.
A copy of the public consultation materials will be available to view on the University's website from Tuesday 22 November to Friday 25 November and there will also be an option for the public to provide feedback online: www.exeter.ac.uk/ west-park/
The input and feedback of local residents and communities is vital and will help to shape the University and UPP's application to Exeter City Council to complete Reserved Matters, which includes the approval of the appearance, layout and access for the project, in accordance with the Outline Approval.
Mike Shore-Nye, Registrar and Secretary at the University of Exeter, said: "We look forward to meeting with local residents and communities at the consultations to discuss the proposals and hearing their feedback. The feedback is invaluable and will help us to shape the excellent living experience we want to provide our students, and supports our ambitious aims to achieve carbon neutrality as a University."
The new development was granted Outline planning approval by Exeter City Council in September 2021, following a public consultation on the proposals in February 2020.
More information on the timescales and up to date visuals can be found here: www.exeter.ac.uk/ west-park/