Times Higher Education forms partnership with University of Exeter for Digital Universities UK 2024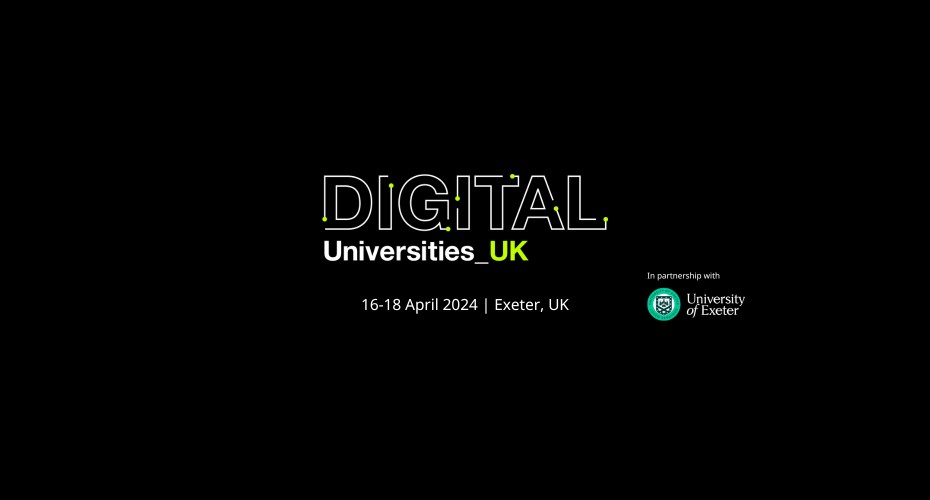 The University of Exeter will be hosting Times Higher Education's (THE) Digital Universities UK 2024 on Tuesday 16 to Thursday 18 April 2024. 
The event will bring together more than 120 speakers which will include leading academics, senior tech industry professionals and policy experts working in technology and higher education who will delve into this year's theme of building inclusive digital futures.
THE and the University of Exeter are partnering to ensure Digital Universities UK 2024 puts people at the centre of digital, providing an opportunity for the hundreds of attendees to reshape education to make it inclusive, high-quality and transformative.
The latest challenges and opportunities of digital transformation will be discussed at the event, which will include more than 50 sessions, along with the culture change needed to strengthen the core mission of universities, enabling global sharing of knowledge and learning without boundaries.
The event's four core themes are:
Leadership for a smart, sustainable campus
Digitally transforming the research experience
Human-centred student experience
Teaching, learning and assessment innovations

The agenda and speakers will be announced later in the year.

Charlotte Coles, THE's Director of global events, said:
"Digital Universities UK unites the most innovative thinkers, tech and talent of tomorrow to explore how institutions can digitally transform to enable world-leading education and research environments that best serve staff, students and society.

"We're delighted to be hosting the event at University of Exeter, a perfect partner for some of the vital conversations that will be happening across the event."

The University of Exeter is committed to becoming the most connected and accessible university for any user through its digital transformation efforts.

Professor Lisa Roberts, Vice-Chancellor of the University of Exeter, said:
"We are delighted to be hosting this event as we want to connect and collaborate with our higher education partners, policymakers and the wider industry, to explore how we can harness the enormous potential of the digital revolution.

"During Digital Universities UK 2024, we will showcase how at Exeter we are using technology to develop a greener, healthier and fairer world, and how we are preparing students with the skills they need for the future workplace. Join us for the opportunity to create new connections across the globe."

Registration for tickets is open and are available for 30% off until Friday 14 July with the code LAUNCH30.

Super early bird tickets for universities are £199 until 26 January 2024. Then early bird tickets are available for universities until 1 March 2024 and then tickets cost £349 for universities. Corporate early bird tickets cost £449 running until 1 March 2024 and then corporate tickets cost £649.

Times Higher Education (THE)'s Digital Universities UK 2023 took place in April and was hosted in partnership with the University of Leeds. The event's keynotes included Wei Li, Intel's Vice-president and general manager of artificial intelligence and analytics, Simon Nelson, CEO of QA Higher Education and Ash Roots, University of Exeter's Chief digital officer. More than 100 speakers shared their expertise in digital transformation to over 700 delegates from across the university sector.