Three Exeter experts amongst the UK's best scientific minds announced as Scientific Section Presidents for British Science Festival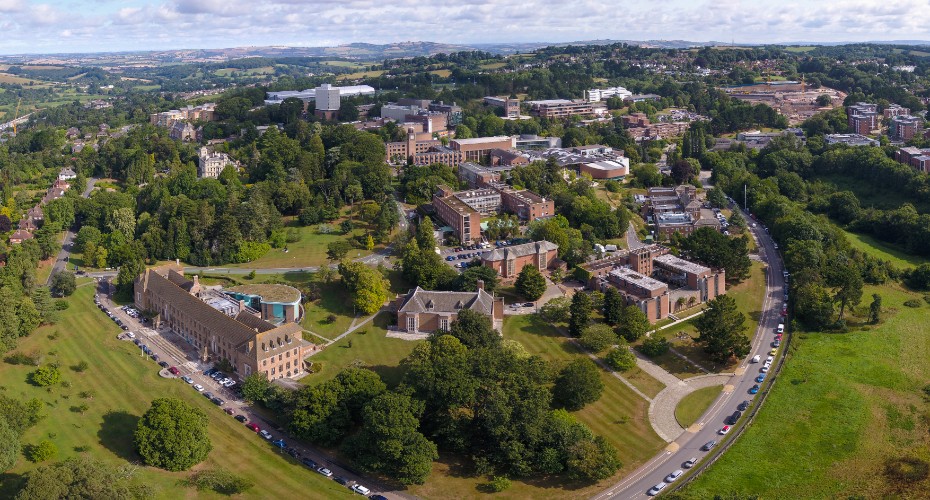 The British Science Association (BSA) has announced its full list of Scientific Section Presidents for 2023.
Professor Tim Lenton, Professor Elaine Bignell and Professor Katharine Tyler from The University of Exeter have been chosen as Scientific Section Presidents. They will play a crucial role in shaping the British Science Festival programme this year, encompassing every aspect of science, ensuring that the talks, installations and events at the festival, capture the most exciting cutting-edge research and innovation from across the UK.
Each year, the Presidents are nominated for making a significant contribution to their scientific field and will be marking the start of their presidency by presenting their pioneering research at the British Science Festival 2023, from 7th to 10th September, hosted by the University of Exeter.
Professor Tim Lenton, Founder of the Global Systems Institute and Chair in Climate Change and Earth System Science at the University of Exeter, has been nominated as Scientific Section President for Geology.
Professor Lenton will be showcasing his research on Tipping Points, and how not all of the Earth's tipping points are disastrous and, in fact, some may help to slow down or prevent the impending impacts of the climate emergency. Professor Lenton's work identifying the tipping elements in the climate system won the Times Higher Education Award for Research Project of the Year 2008.
Talking about the nomination, Professor Lenton said: "It's an honour to be a part of the British Science Festival and to have the chance to show how science and action can help us get out of the climate crisis."
Professor Elaine Bignell, Professor of Medical Mycology and Co-Director (Research) for the MRC Centre for Medical Mycology at the University of Exeter, will lead on Medical Sciences through her role as Scientific Section President.
Professor Bignell's research aims to combat antifungal drug resistance and seeks a mechanistic understanding of fungal lung disease with a view to developing novel diagnostics and antifungal therapies.
Professor Bignell said: "In a world where technology is revolutionising the clinical toolkit, the threat of infectious disease still looms large. Antibiotics that were effective less than twenty years ago have rapidly become less useful and for some life-threatening infections, such as those caused by fungi, the therapeutic options have become very sparse indeed."
"From safe-guarding patients to managing the impact of climate change on food security, a better understanding of the astonishing agility of microbes will allow us to invent new solutions that reroute challenging microbial trajectories. From Bugs to Drugs is an Exeter-based research project that exploits the natural tendency of fungi to rapidly adapt to stress and identifies chemical cul de sacs that block this process."
Nominated as Scientific Section President for Sociology and Social Policy, Professor Katharine Tyler, will explore how the inequalities associated with major societal changes, including Brexit and COVID-19, have been covered by the media and experienced by different communities across the UK.
Professor Tyler's research falls within the interdisciplinary area of critical race and ethnicity studies, with a particular focus on the formation of white racial identities, social class, postcolonialism and Britishness. Her work is founded upon reflexive, multi-sited, residential ethnographic fieldwork within urban, suburban and semi-rural locales of Britain.
"I am delighted and honoured to be selected as the president for Sociology for the BSA. At this year's festival, I shall showcase 'Red, Amber, Green Britain', an online exhibition of work produced by Helen Snell during her artist residency at the University of Exeter on an ESRC funded project that I led entitled: 'Inequality, Identity and the Media in Brexit-Covid 19 Britain'" said Professor Tyler.
Further details about the British Science Festival 2023 programme, including how to book free tickets to the Presidential addresses, will be released in the coming months.
To read the full list of Scientific Section Presidents for this year's British Science Festival, visit: https://www.britishscienceassociation.org/News/17-of-the-uks-best-scientific-minds-announced-as-scientific-section-presidents
To find out more about the British Science Festival, visit: https://britishsciencefestival.org/ or follow @BritishSciFest on Twitter for the latest updates.