Pint of Science festival of public science returns to Exeter pubs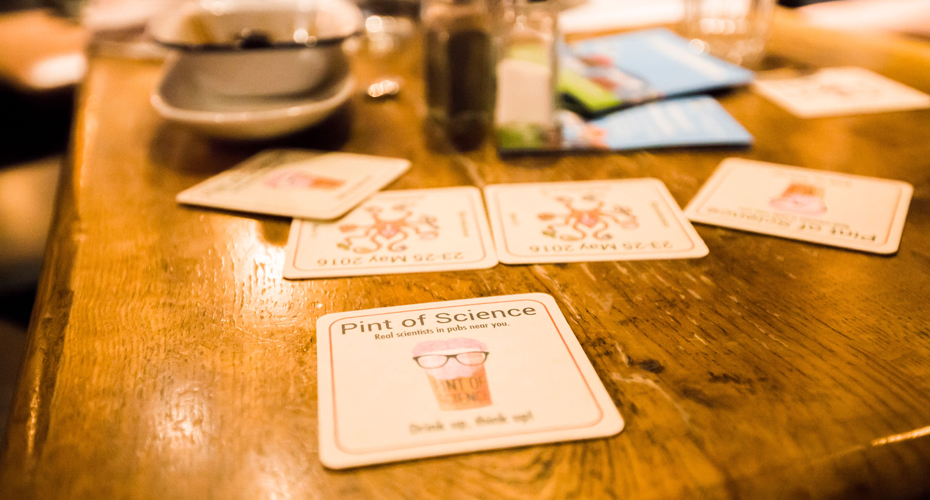 Academics from the University of Exeter will be serving up science to pubgoers as Pint of Science returns to the city this May.
The tenth anniversary of the world's largest festival of public science will see leading research scientists take to the stage in venues across the city to give talks on everything from genetics and health to physics and space.
On 22-24 May, Exeter will join hundreds of cities across the world taking part in the three-day festival. Each night will provide a unique line up of talks, demonstrations and live experiments held in a relaxed and informal environment. The events give researchers a platform to share their stories, and audiences an opportunity to ask their questions about science to those directly behind it.
University of Exeter researchers will be speaking at venues across the city, including the Bootlegger, City Gate, the Mermaid, MakeTank and the Undergrad.
Talks at this year's festival include: 'Cells, Bells and Whistles!' which covers genetic variants, microsporidia, and what it means to be human. 'The Plastisiphere' will delve into the world of plastic and its impact. 'A Gene Bill of Health' will explore bacteriophages, gene editing technology, and why both arms are important for blood pressure readings. 'AI-mazing technologies!' will showcase some of the ways that AI and its applications are affecting both our environment and the way machines 'learn' both visually and intuitively.
Diabetes UK will be sponsoring the 'Diabetes – Blood, Sweat and New Frontiers' talk featuring two leading diabetes researchers at the University of Exeter. Dr Chloe Rackham and Dr Craig Beall will talk about the Type 1 and Type 2 diabetes whilst also shedding light on pioneering new treatments, which one day might be able to prevent the onset of the condition entirely.
Alongside the main talks, audiences will go head-to-head in the largest ever multi-city pub quiz, where teams in each venue compete against others across the city and the rest of the UK as they tackle a series of science-themed questions.
Pint of Science Co-Founder, Dr Praveen Paul said:
"It's hard to believe that a small one-off project between a few friends has turned into thousands of events over ten years! Pint of Science would not be possible without our enthusiastic and dedicated volunteers across the country who work so hard to show you the inspiring research happening on our doorsteps.
"Our programme is packed full of events, which will inspire, challenge and encourage us all to be curious. The only difficulty is choosing which of the brilliant events to go to!"
Tickets are available from the Pint of Science website (https://pintofscience.co.uk/events/exeter) and cost £5 each.