University of Exeter experts selected to help tackle some of society's biggest challenges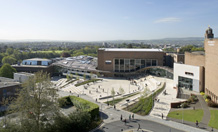 University of Exeter experts have been selected to work with policymakers to help fight some of the biggest challenges facing society and the economy.
Dr Pallavi Banerjee, Dr Katharine Boyd and Dr Stefan Siegert have been awarded UKRI Policy Fellowships and will be based in Government departments to create innovation, social and institutional change.
The fellowships will connect policymakers and academics so they can work together to tackle large-scale, complex challenges.
Dr Pallavi Banerjee will be based in the Department for Education, applying behavioural insights into education, making use of her expertise in educational research to brief policymakers on the lessons that administrative data and evidence synthesis can provide for present-day decision-making.
Dr Katharine Boyd will be based in the College of Policing, working to develop ways of changing the behaviour of officers in UK police forces to tackle internal sexism and misogyny.
Dr Stefan Siegert will be based in the Department for Environment, Food and Rural Affairs, creating new complex simulation models about crop growth to support land management decisions.
As a member of the DfE's Strategy Unit Dr Banerjee will have the chance to work on the department's highest priorities, influence the country's educational landscape, and improve the lives of children and young people. Her previous research has involved evaluating the impact of interventions and qualifications on educational outcomes, raising attainment and facilitating progression. She studies inequalities in educational outcomes, applying research in complex policy settings and routinely analyses large-scale datasets to identify factors associated with education behaviour and decision-making.
Dr Boyd will use behavioural science to promote behaviours between police officers and staff which will help to reduce the incidence of sexism and misogyny in police forces. The College of Policing have identified 12 potential interventions through preliminary research and stakeholder engagement, and Dr Boyd will lead the detailed development, implementation and evaluation of one or more of these interventions.
Dr Boyd has previously worked with police officers to analyse alcohol-related violence, terrorism, and police use of force, as well as repeat incidents of domestic abuse. Her research has informed the College of Policing's recommendations for Officer safety and she has trained police officers, councillors and representatives from Women's Aid in evidence-based practice.
Dr Boyd said: "I look forward to working with the College of Policing to develop innovative ways to encourage organisational cultural change in policing. This is a great opportunity to have tangible impact on sexism and misogyny with the goal to change attitudes and behaviour and improve relations between the police and the public."
Dr Siegert is an expert in computer simulation models for the climate, the spread of Covid-19, geological exploration and air quality.
During 2021 and 2022 he supported the UK Health Security Agency's efforts on modelling SARS-CoV-2 prevalence based on viral matter concentration in wastewater. Dr Siegert's work on weather and climate modelling has been used by institutions such as the UK Met Office and the European Centre for Medium-range Weather Forecasting. He is currently collaborating with the Met Office on spatial statistical modelling methods to reduce biases in weather simulation models.
Dr Siegert said: "I have always been interested in complex computer simulation models, and my research focusses on mathematical analysis of their ability (and sometimes their inability) to model the real world. In my fellowship I look forward to support Defra's work to use agricultural system models to shape UK food and land use policy."
The applications were supported by the University of Exeter's Policy@Exeter. Director, Professor Paul Cornish, said: "I am delighted to see three of our brilliant academics secure these prestigious fellowships. Long-term policy planning requires a strong evidence base and government bodies are increasingly investing in such positions to bridge the gap between academic research and policy decisions. Our academics will be working on pressing policy issues, such as sexism in policing, environmental land management and educational challenges. I'm sure these fellowships will be the start of a fruitful collaboration and will form part of Exeter's commitment to building a greener and fairer society."