University of Exeter marks support for Ukraine on Ukrainian Independence Day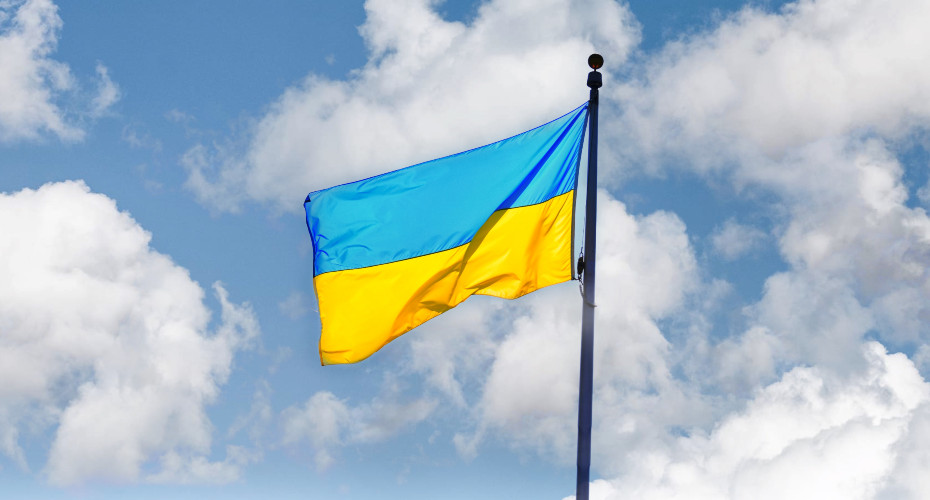 University of Exeter experts have marked their ongoing support for their colleagues in Ukraine as the country marks its Independence Day.
Academics from Languages, Cultures and Visual Studies have joined forces with poets, writers and broadcasters from Ukraine this year to spread the word about life in the war-torn nation as well as the beauty of its poetry and culture.
The UK's Ambassador to Ukraine, Melinda Simmons, was awarded an honorary degree as part of this year's summer graduation ceremonies.
The Translating Cultures festival showed the diverse and varied ways in which languages and cultures are translated – from climate change and comedy to wartime poetry. It was organised by the University of Exeter with UNESCO Cities of Literature.
Academics and creatives from across Europe, with stand-up comedians and some of the country's leading authorities on the environment, ran a broad range of events across the city and on the University's Exeter campus.
These included readings of Ukraine wartime poetry and discussions with poets Olena Huseinova, who works for Ukrainian radio, and Yuliya Musakovska. They read their own work and poems by friends, including those who have been killed serving in the war.
The University of Exeter hosted the Devon-based poet Fiona Benson, who dedicated a reading of her 'Eurofighter Typhoon' to the institution's Ukrainian visitors. The poem sees the narrator reflect on her daughters playing outside while she sees a fighter jet flying overhead. Frightened she seeks comfort from her children while trying not to scare them. The poem ends: "Always some woman is running to catch up her children / we dig them out of the rubble in parts like plaster dolls – / Mary Mother of God have mercy, mercy on us all". Olena and Yuliya have now translated Fiona's poem and are planning to have it performed on Ukrainian radio.
Olena spoke in Cologne to mark Ukrainian Independence Day and shared translations of poems prepared by University of Exeter academics.
Professor Hugh Roberts, Director of Research and Impact for the department of Languages, Cultures and Visual Studies, said: "We're thrilled and honoured to see the connections we made with Ukraine continue with further examples of translating cultures between poets in Devon and Ukraine and beyond. It's a privilege for us to reaffirm our support in celebration of 32 years of Ukrainian Independence today. Slava Ukraini!"