From the Northcott to New York: Alumnus shares his acting journey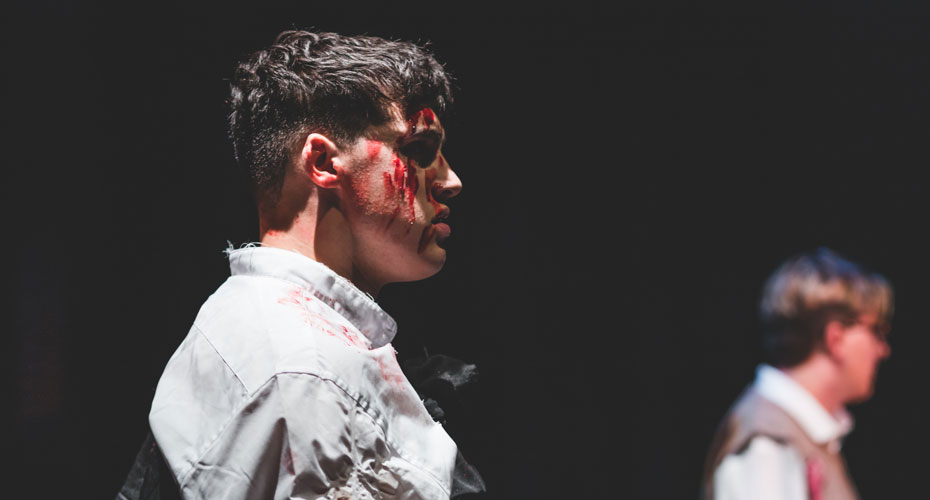 Alumnus Charlie Howard (Drama, 2020) performed in several shows during his studies and moved to New York after graduating to study at the Lee Strasberg Institute for a year and starred in several plays and award winning short films. This year he is performing Off Broadway in Hamlet and debuting his original play Jock. We caught up with him to find out more and hear about time at Exeter.
So how did Charlie find his passion in acting? From a young age he felt captivated by watching all kinds of performances, whether it was pantomimes, theatre or cinemas he felt such a thrill and excitement in being in that space. He says: "At that time I just loved the idea of putting on a show and impressing people, it wasn't until I got involved with The National Youth Theatre during school that I began to understand the professional nature of it all and how you could turn it into a career; that's when my curiosity around the craft of acting started to begin I think. Now, I love the idea of re-experiencing real life and going to a place of truth that can provoke an audience, which is something I am desperate to capture."
Since graduating, Charlie was cast in the short film Keep Off The Grass which recently aired on Film 4 and now available to stream on All 4, and received a Best Supporting Actor nomination from the The British Independent Film Festival. He was also signed by Matt Delpiano and Cavalry Media last summer (who have previously represented actors such as Al Pacino) and he says was a big step forward for him.
Reflecting on this career so far Charlie says:
I moved to New York over a year ago to train but with no concrete plan other than that. Getting scouted by them was nice validation that the sacrifice I made to move countries was the right decision for my career. There is a lot of waiting around, whether it is between acting jobs or after auditions, so you have to keep creatively fresh. I think always being in an acting class or working on your own craft, regardless of whether you have booked a role, is a good way to combat that complacency
Charlie also found that his time at Exeter set him up well for his career:
I loved my time at Exeter and I learnt a huge amount from my degree. I think two things have stuck with me. Your body is an instrument so it needs to be handled that way. Tension often gets in the way of expression so stretching, vocal exercises or relaxation really go a long way to freeing yourself in a performance.

Secondly, we spent a lot of time devising in large groups throughout our degree. I think that taught me the importance of collaboration, to be a team player but also to listen. We spend a lot of time pretending to listen but I think it is vital to really listen and try to understand, both in acting and life. So many memories have stuck with me from that time but 'voice for the actor' was definitely my favourite module. Our teacher, Konstantinos Thomaidis, was fascinating and he really got through to me the importance of technique, particularly in voice, acting isn't just about showing off! I also loved being involved in the societies such as EUTCO and Shotgun Theatre; we were so lucky to perform at The Northcott Theatre, in Lord of the Flies, it is such an amazing space.
After he had such a positive experience at Exeter, we asked him what advice he'd give to current and prospective students who are also looking to follow a similar career path and he said:
I think it's a process, so try to enjoy the journey. Immerse yourself in art, music, read plays, see theatre, network with people in the industry. Absorb as much as you can and focus on the work. Make your own work. Try not compare yourself to others, it's a long game so if your heart is in it I think it will come to you. Be nice to everyone as well that's always important and it can go a long way. At least this is what I am trying to do!
Currently Charlie is working on his latest project, the debut of his original play Jock; a solo play that explores masculinity and asks the question: "what will you do to belong?" In terms of how he came up with the idea, Charlie says:
I have grown up playing rugby my whole life, it was my first real passion. Although I am incredibly fond of that world, I think the culture, particularly in your late teens early twenties is up for debate. I don't think men talk enough about how they really feel, I think that's apparent in mental health statistics and suicide rates. I wanted to create a piece of theatre that could examine this environment, the raw experience of it and create discussion and reflection for an audience.
We can't wait to hear how the debut goes!
Jock is being produced at the Chain Theatre in Manhattan and debuts in April, and Charlie can also be found performing in Hamlet at The Flea Theatre in May.
You can view some photos from Charlie's previous performances below.