Ukraine ambassador and acclaimed novelist Bernardine Evaristo to be honoured by the University of Exeter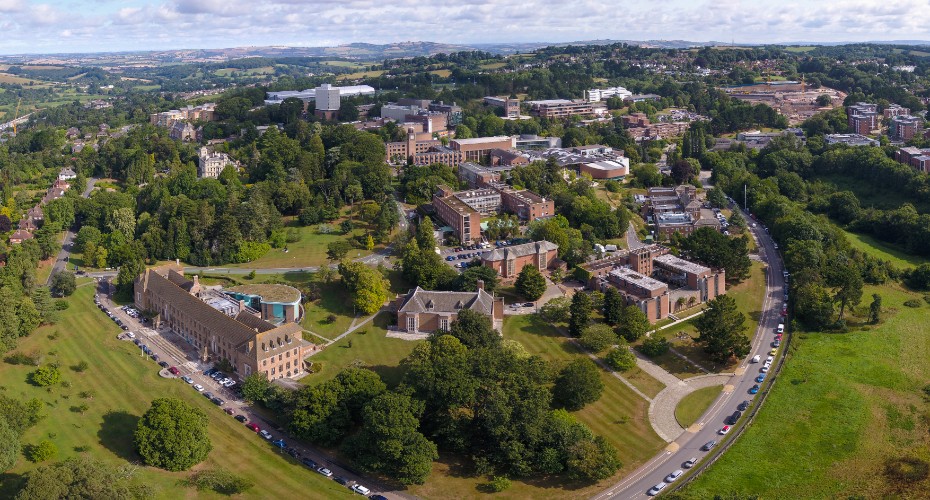 Britain's ambassador to Ukraine Dame Melinda Simmons and acclaimed novelist Bernardine Evaristo are among those being awarded honorary degrees by the University of Exeter at this summer's graduation ceremonies.
Former Deputy Chief Medical Officer for England and now Dartmoor vicar, Prebendary Professor Gina Radford, Google director Melanie Eusebe, UK Government International Education Champion Professor Sir Steve Smith and translator Leslie McLoughlin will also be honoured.
A total of 6,670 students will be graduating in Exeter and Cornwall this week. They have studied 549 different programmes. Almost 20,000 guests who will watch 24 ceremonies.
Professor Lisa Roberts, Vice-Chancellor of the University of Exeter, said: "Graduation is always such a special time for our staff and students and their loved ones. We look forward to celebrating with our new graduates, and we wish all of them the very best for the future.
"It will also be our privilege to celebrate the extraordinary work of our honorary graduates and the amazing impact they have had around the world."
Dame Melinda began her career in international sales and moved from there to work for an NGO specialising in conflict prevention and resolution in war torn countries. As a civil servant she worked for the Department for International Development in several policy roles, including a tour overseas in South Africa as well as heading up the Middle East and the Europe Departments. She also worked for the National Security Secretariat at the Cabinet Office, setting up and running a cross government fund focused on prevention and resolution of violent conflict, before transferring to the Foreign, Commonwealth and Development Office.
Before taking up the role in Kyiv Dame Melinda was head of Conflict Department, where she campaigned for justice for crimes of sexual violence against women and girls in war torn countries.
Dame Melinda, who has a degree in Modern Languages from the University of Exeter, said: "I am proud (and surprised!) to have been awarded an Honorary Doctorate. Congratulations to all those graduating this year – it is an honour to join you all".
Bernardine Evaristo won the Booker Prize 2019 with her eighth book, Girl, Woman, Other, the first black woman and black British person to win it. It was a #1 Sunday Times bestseller for five weeks, making her the first woman of colour to achieve this position in the paperback fiction chart, and spent 44 weeks in the Top 10.
She is the author of essays, poetry, journalism, literary criticism and drama and has initiated many arts' inclusion projects including The Complete Works Poetry Mentoring scheme and the Brunel International African Poetry Prize.
Ms Evaristo said: "I am thrilled to receive this Honorary Doctorate from the University of Exeter as an acknowledgement of my contribution to literature. It is much appreciated."
Prebendary Professor Gina Radford trained as a doctor at the Royal Free medical school. She was Deputy Chief Medical Officer for England and is now a non-Executive Director of both the Department of Work and Pensions and Health and Sa.fety Executive. Professor Radford is a vicar in Devon, looking after villages on the edge of Dartmoor. During the COVID pandemic she advised the Church of England nationally on their response, and in recognition was awarded the The Canterbury Cross for Services to the Church of England by the Archbishop of Canterbury. She also worked with government on specific aspects of its response.
Professor Radford said: "It is a real privilege and delight to be awarded an Honorary Degree from the University of Exeter. The University has such a strong reputation in terms of academic and teaching excellence, so to be recognised by the University in this way is a real honour, and I look forward to a closer association with the University going forward".
Leslie McLoughlin first studied Arabic in 1960 at Durham University as an officer in the Royal Army Educational Corps. He then taught basic Arabic to military personnel in Aden and was Director of Studies at M.E.C.A.S. THE Middle East Centre for Arab Studies. He has interpreted for many Arab visitors to the United Kingdom and for British officials in the Arab World. For many years he has been a broadcaster on Arabic radio and television.
Melanie Eusebe is a Director at Google leading Diversity and Inclusion across Europe, the Middle East and Africa, and is widely known as a powerful advocate for equality and economic empowerment. She founded The Black British Business Awards (BBBA) to put the spotlight on talented business people in the UK of black descent, providing role models and inspiration for thousands.
Professor Sir Steve Smith is the UK Government International Education Champion, and the Prime Minister's Special Representative to Saudi Arabia for Education. He was previously Vice-Chancellor of the University of Exeter from 2002 to 2020.