Dozens of firms join 'clean mobility' workshop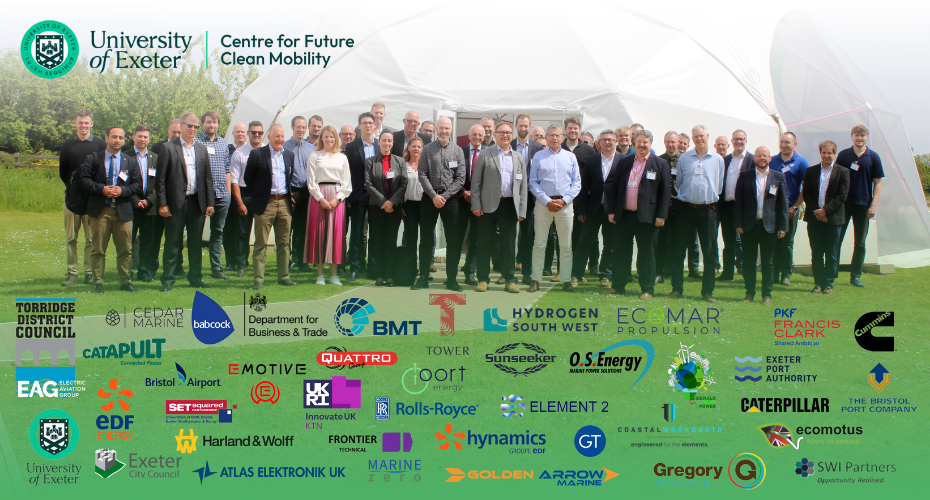 More than 40 companies joined a workshop to discuss the challenges and opportunities for using hydrogen fuels in "clean mobility".
Clean mobility involves using eco-friendly vehicles and transportation systems to minimise environmental harm and decrease dependency on fossil fuels.
The workshop, hosted by the University of Exeter's Centre for Future Clean Mobility, was held at Exeter Science Park on 18 May.
The purpose of the event was to create an environment where like-minded companies could come together to face the UK's challenges in decarbonisation, and embrace net-zero opportunities.
"It was impressive to see the range of organisations involved from diverse sectors of the economy, and the depth of thinking underway in the role of hydrogen in our green future," said Stuart Brocklehurst, Deputy Vice-Chancellor for Business Engagement and Innovation at the University of Exeter.
"In addition to its outstanding, commercially driven research, the Centre for Future Clean Mobility plays a vital role in convening key players from across the sector, as this workshop made clear."
Professor Chris Smith, the Director of the Centre for Future Clean Mobility, said: "Addressing the challenge of securing private investments and government support for clean mobility, our aim is to facilitate coordination among various industrial sectors within the region.
"We strive to proactively attract investment towards clean propulsion technologies, promoting a forward-looking approach."
The workshop's keynote speaker was Alex King, CEO of Tower Group, which develops electrolytic hydrogen facilities based in South West England.
The company is actively developing a number of hydrogen production and distribution hubs within the region, as well as working with other businesses on bespoke end-to-end systems
"It was my absolute pleasure to attend and present at the Hydrogen Fuels in Clean Mobility workshop," King said.
"The importance of hydrogen for mobility is becoming ever clearer, and in order to decarbonise the sector in line with emissions targets academia and industry will be required to work together expeditiously.
"The South West is privileged to play host to the Centre for Future Clean Mobility as this facility will, I am quite sure, play a pivotal role in decarbonising mobility in the region and beyond.
"Events such as this are a critical step in this endeavour and Tower Group will look forward to contributing to the next."
Nick Hughes, Senior Business Development Manager at EDF Hynamics, said: "At the recent workshop organised by the Centre for Future Clean Mobility, I met with stakeholders working on hydrogen fuels, and took the floor to highlight the important work being done by Hynamics in this area.
"This pooling of knowledge by various hydrogen players is rich in lessons and essential in our collective quest to find appropriate solutions to achieve our net-zero objectives."
Speakers provided valuable insights on using hydrogen fuels in clean mobility, presenting diverse perspectives from the industry, research, supplier, and user standpoints.
Some also shared strategies for accessing funding opportunities specifically tailored for hydrogen fuel projects.