New strategies needed to help banana farmers recover from climate shocks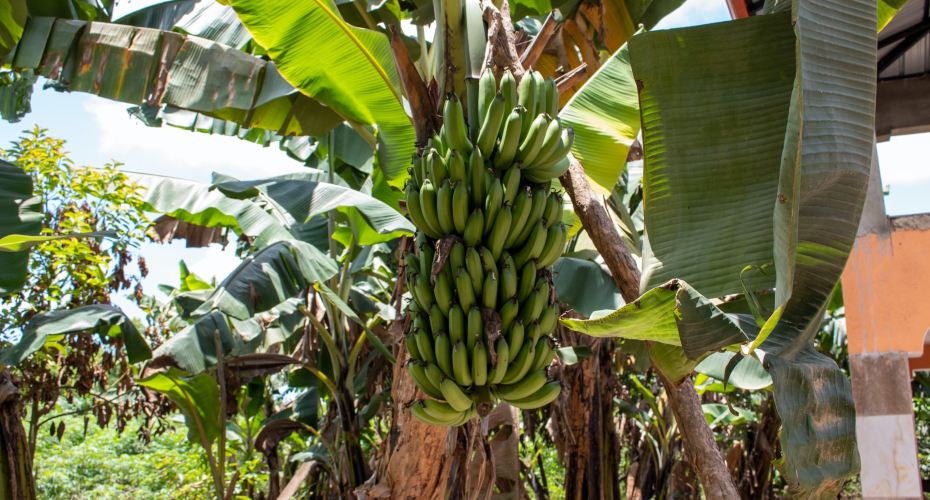 Extreme weather events and the globalised nature of food production puts smallholder farmers at risk of 'double exposure' of production and market loss, according to a new study.
Researchers including from the University of Exeter, University of Oxford and ETH Zurich, examined the Global Food Value Chain (GFVC) – an international network of stakeholders involved in food production, processing, distribution, retailing and consumption – of bananas grown in the Dominican Republic, the UK's most important supplier of organic bananas.
They found that smallholder farmers hit by hurricane-induced flooding faced not only the loss of production but also a loss of market access for their undamaged produce, and called for new strategies to tackle the aftermath of climate shocks.
The researchers integrated satellite, household survey and trade data to investigate the impacts of two consecutive hurricanes (Hurricanes Irma and Maria in 2017) and subsequent flooding on smallholder banana farmers in Dominican Republic and what factors determined their recovery from such events.
They found that smallholder farmers could do little to mitigate against hurricane-induced flood damage, leading to an "all-or-nothing" pattern as 75% of flooded farmers lost more than 90% of their banana production.
This made recovery all the more crucial to building resilience in the food system, with this typically taking 450 days – but there was big variation between farmers' recovery times based on their training and access to financial capital.
The researchers found that when farms were part of a GFVC their recovery from climate shock was subject to the 'double exposure' of production and market loss.
And while they observed that 11% of the production area was affected by the flooding, the market loss created a 'spillover' effect into non-flooded areas, increasing the proportion of banana producers impacted by the shock while providing evidence of how climate change and globalization will act together to disrupt vulnerable populations.
The study identifies areas and potential supply chain initiatives to support smallholder farmers hit by climate shocks.
These include collaborations between farmers and co-operatives at a scale that goes beyond individual farms, such as landscape management to increase forestation in drainage basins or working with government, water authorities and other farmers to optimize the zoning of agricultural land and location of flood defences.
Recovery interventions should also be expanded, in a risk-targeted way, to more farmers by other GFVC stakeholders such as certifiers and traders, the study recommends, as well as highlighting the need for initiatives to allow farmers to maintain market access after suffering a climate-based shock to production.

Dr Dan Bebber, an Associate Professor of Ecology at the University of Exeter, said: "Smallholder farmers in the tropics are particularly vulnerable to extreme weather impacts from climate change. Our research has quantified this vulnerability and shown that appropriate training and support can help build resilience."
Dr Will Thompson, Research Fellow at the Nature-based Solutions Initiative, University of Oxford, said: "The way that powerful actors in food value chains, such as retailers and traders, engage with smallholder farmers, in terms of trading relationships, can have significant consequences for the resilience of the food system. Our research suggests that strategies to enhance trader loyalty and promote landscape-scale collaboration could be effective."
Smallholder Farmer Resilience to Extreme Weather Events in a Global Food Value Chain is published in Climatic Change.