Immersive app brings medieval Tours and the history of artisan women to life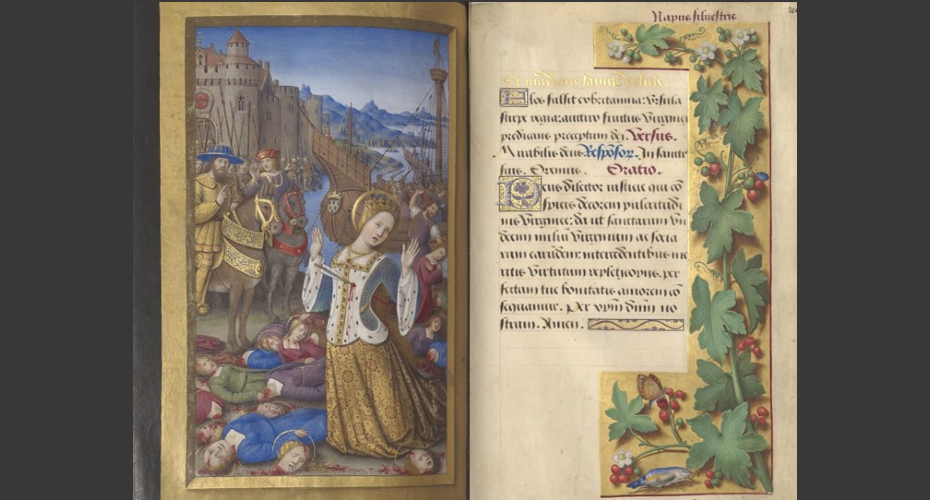 Medieval Tours has been brought to life with an innovative app that transforms new research on artisan women into immersive living history.
'The Passion Quest' trail on Hidden Tours – the latest in the University of Exeter's HistoryCity apps series – reconstructs the figure of Jehane Bernarde, a stocking maker in the year 1500. It showcases how artisan women in late medieval France were both more literate and pursued a more active role in urban life than was once believed.
On a geolocated historic map of Tours, the user of the app stops at eight sites – some famous, some off the beaten track – listening to Jehane tell stories of her life and times. The trail is set as the city is preparing for the royal entry of Louis XII and Anne of Bretagne. Jehane must deliver silk stockings to the Comte de Dunois – but she's also on a quest to find a book for her precious collection, a Passion of Christ in French.
Dr Margriet Hoogvliet, a book history expert whose research underpins the trail, said: "The Passion Quest began with an inventory I found of Jehane's goods made after her death in 1516. There were a lot of stockings – and 10 books. With this and what I knew about her family, I built up a plausible picture of this woman, drawing on research on artisan literacy, and religious and economic life, in late medieval Tours.
"It's often still assumed that all but an elite in pre-modern Europe were illiterate, but the story is more interesting. In French cities at this time even a rather modest stocking maker had a great deal more social and cultural capital than one might imagine."
Hidden Tours is the result of a collaboration between HistoryCity (formerly Hidden Cities), Dr Hoogvliet at the University of Groningen, and historians from the Centre d'Études Supérieures de la Renaissance (CESR) in Tours.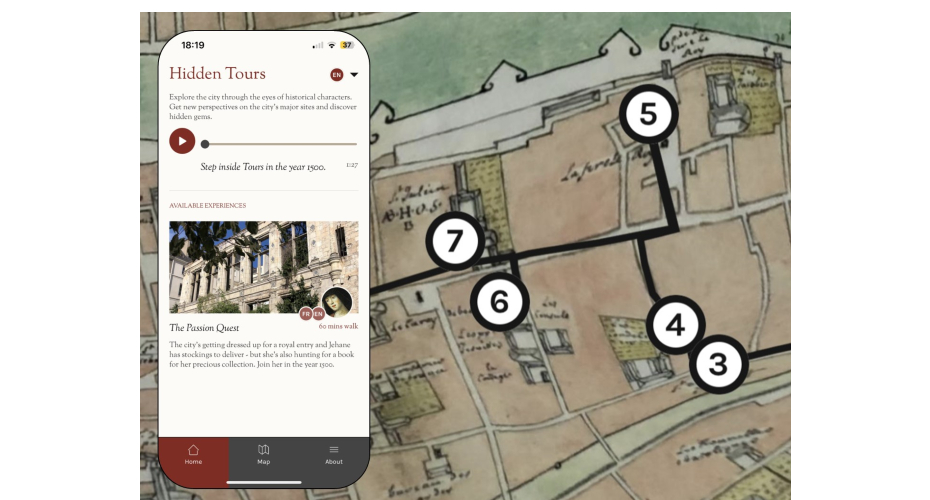 HistoryCity trail director Dr David Rosenthal said: "The first-person or living history approach gives you the sense of having one foot in the past and one in the present. It shows you how people moved around their cities and experienced the places and objects that were part of their everyday lives, some still extant, some in ruins or vanished. With Jehane we give a voice to the type of historical figure that is not often presented to either a visiting or a local public."
Starting at the exact spot of the single medieval bridge over the river Loire and ending near the famous Place Plumereau, the trail incorporates images of objects associated with the story and sites, from the Bibliothèque Municipale, the Musée des Beaux Arts, and local archives. Jehane's narrative about her day in Tours is complemented by expert commentary at each stop.
Professor Fabrizio Nevola, head of the HistoryCity project, said: "We increasingly order the world around us empowered by mobile devices and geo-location, toggling between 2D maps to 3D street views. The potential of these same technologies for historical research on cities is only starting to be realised. At the same time, Augmented Reality invites a new approach to the 'museum without walls', reuniting cultural heritage – cities, buildings, artworks – across time and space."
HistoryCity is a publicly funded project. Apps include Hidden: Valencia, Florence, Exeter, Copenhagen, Hamburg, Deventer, Trento, and Landshut. The first twentieth-century trail was released in May, tackling the Spanish Civil War in Valencia. Hidden Venice will launch in late 2023. All apps are free from the App Store and Google Play.