Writer and academic publishes Cornwall-inspired collection of poetry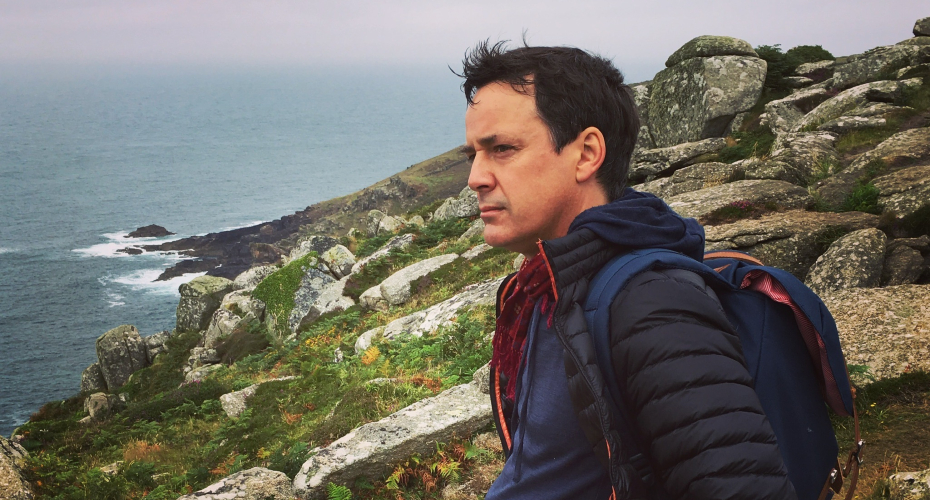 A writer and academic has drawn upon his childhood experiences of growing up in Cornwall as inspiration for his latest collection of poetry.
Boy Thing, by Professor John Wedgwood Clarke, taps into life in 1970s St Ives, and reflects on childhood family troubles and the role that the Duchy's coastline played in helping him to negotiate the resulting anxieties.
It is the third collection of poetry published by Professor Clarke, Associate Professor in Creative Writing at the University of Exeter.
"Boy Thing is about growing up as grocer's son in St Ives when it was very different to the way it is now," says Professor Clarke. "It's also about the impact of a common enough experience of family crisis on a young boy and the anxieties it created, which were worked out through exploring the coastline around where I lived.
"I did a lot of my thinking through the things around me; they contained emotions I was feeling that I had no words for at the time. At the same time, the more I looked around me, the stranger my surroundings became. So, the emphasis of this collection is very much on a 'language of things', hence the title."
Professor Clarke began writing the collection in 2018, although some of the poems have their roots in work he started much further back. And he says that his interaction with Exeter's creative writing students also played an important role in motivating him to produce the book.
He said: "It came out of my teaching and convening a first-year introductory creative writing module. I was teaching some poems that had a strong autobiographical content and the students were responding well to them. In order to be able to develop their responses, I thought I'd better have a go myself so that I could demonstrate some of the techniques I was introducing them to. It continued from there.
"For me, there's an indivisible relationship between my creative practice and my teaching. We have brilliant creative students at Exeter, and they keep me excited about my own learning and creativity. As anyone who teaches knows, you really get to work out which ideas matter to you when you have to teach them."
The finished work, which has been published by Arc Publications, takes the form of two extended poem sequences, across 41 sections, which Professor Clarke describes as a "poem memoir". And he will be reading some of these poems, and answering questions about his work, at a public event being held at Exeter Custom House on Wednesday 10 May.
"I'm glad I've made the poems the way I have," he added. "This was work I needed to do prior to getting on with other projects. And it's a relief that the poems no longer wake me up at night, worrying over the odd word, or tone of a phrase. I'm reconciled with what I've managed to do. And occasionally, I think yes, that holds something in a way that feels right. It's a good feeling!"
Professor Clarke's first collection, Ghost Pot, was published in 2013, and drew inspiration from seafront landscapes and wildlife of North Yorkshire, as well as his collaboration with scientists and artists. His second, Landfill, was published in 2017.
He has also worked as a television presenter and researcher for BBC Four, with credits on The Books That Made Britain (2016), Through the Lens of Larkin (2017), and Cornwall's Red River (2021), which is based on his research project about a post-industrial river in West Cornwall. Cornwall's Red River is currently on iPlayer until early June.
"Boy Thing is a thing of wonder. These are poems that negotiate anew the tender, hurt territory of a boy abruptly unfathered with every fresh reading; and that travel into the wonderment of becoming a father of boys. We are given a boy's-eye-view of 1970s Cornwall with a music and detail so meticulous that we yearn with Clarke for its lost territories. But these are not just poems of archive or archaeology; they are revelatory, dynamic and raw. Clarke is crucially attuned to the secret messages received in boyhood – its preoccupations and awakenings, epiphanies and abuses, and its shames. This book is unmissable: human and humane, grimy and sublime."

Reviewer Fiona Benson, in praise of the book.