Explore Exeter's historic maps and create unique new street plan as part of new exhibition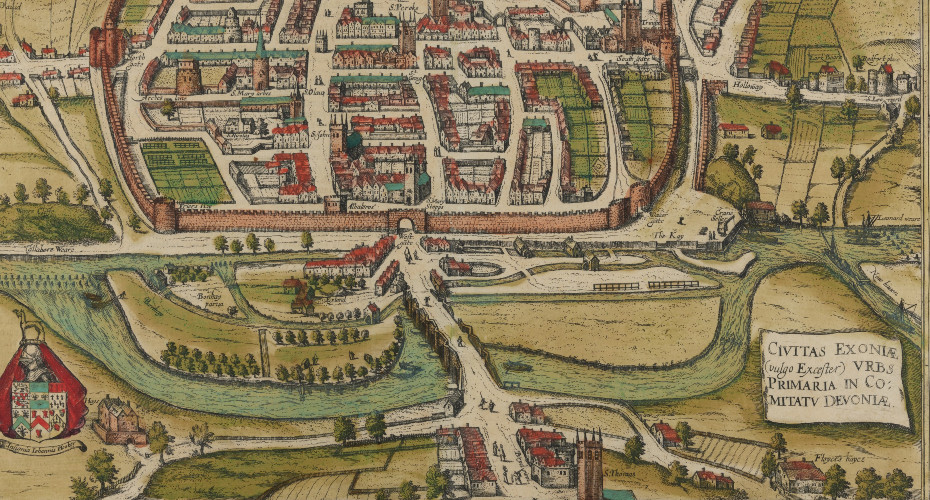 People can be inspired by Exeter's fascinating historic maps and help create a unique new street plan of the city as part of a new exhibition.
Those who live and work locally can add their special memories and favourite locations to a new digital map which will act as a record of Exeter life for historians of the future.
The University of Exeter exhibition allows people to travel back in time through a display of digitised historic maps of Exeter to discover how the city has been mapped over the past 500 years.
They can then browse and add to the new and unique digital map of Exeter, created through contributions from people in the local community.
Maps on display include decorate maps from and others from 1587, 1618, 1638, 1661, 1675, 1765, 1792, 1810, 1832, 1835 and 1840. Other maps on display include those made to mark cholera cases in 1832, 1833 and 1834. There are modern street plans produced between 1910 and the 1970s.
This digital exhibition is based on an outreach project organised by Sarah-Jayne Ainsworth and Annie Price from the University of Exeter Special Collections. Residents of Exeter have been adding to the digital map that charts the places in the city with personal significance to them such as a favourite beauty spot, building or shop. People can now pin their own entry on the map by filling in an online form at:
Sarah-Jayne and Annie have worked with residents of a retirement housing complex on Vaughn Road and held drop in sessions at the University of Exeter, the St Thomas Community Lunch Club, Countess Wear Village Hall. They also held a workshop with 17th Exeter (Alphington) cub pack. They hope to work with other community groups this summer.
Annie said: "It's been wonderful seeing the special memories and connections people have to different parts of Exeter. We want to protect everyone's privacy so we are only pinning on the map entries for public spaces rather than homes, but people can be as precise as they want, even down to their favourite tree."
Sarah-Jayne said: "The historic maps give a real sense of how the city has grown and developed over the years and how people lived in the past. With this new map, we are creating something that records how people live in and use the city now and that is really special."
On one entry on the map John and Christine – who have put a pin on the River Exe – detail how they enjoy seeing the "fabulous wildlife, including wildfowl, a family of swans, seals and geese. We can also see a herd of cows!".
In another entry, for Parker's Well, the resident details how it was a healing or holy well once reputed as beneficial for eye diseases. After contracting ocular shingles they visited it, only to discover that the water supply had been redirected.
If you are interested in arranging a free exhibition and/or workshop for a community group or organisation email libspc@exeter.ac.uk.