New support for mature students helping them to make the next steps to education or work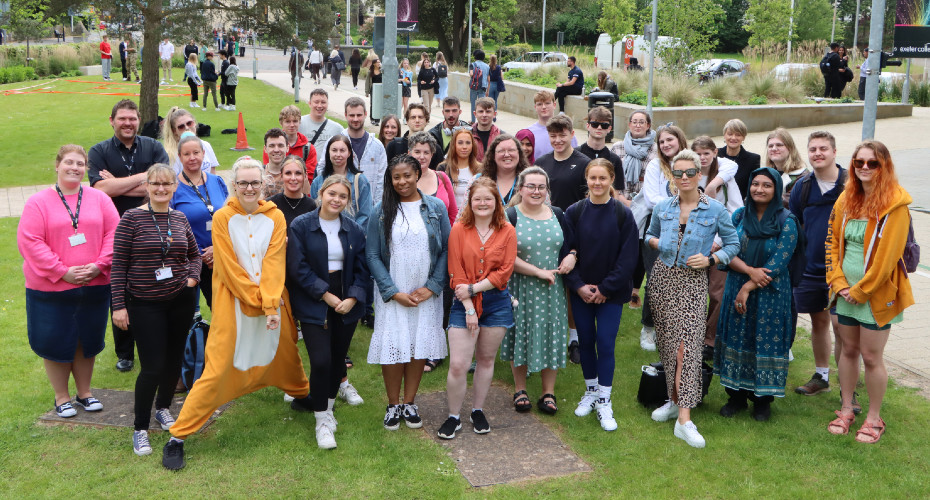 New support for mature students across Devon is helping them to make the move on to university and different careers.
Experts from the University of Exeter and Exeter College are working together to provide access to specialist information and advice.
The new Mature Access Pathway allows students to experience what university life is like and polish their study skills through workshops, talks, and on-campus activities. There is also access to academic staff, mentors, and current undergraduate students who have given information, advice, and guidance they need to make an informed decision about their future.
The course was set up after University of Exeter analysis showed mature students can lack confidence in applying to higher education and often prefer to study for a degree locally. The review showed the need for mature students to meet those in the same situation and to get targeted information about finances and life as an undergraduate.
The Mature Access Pathway, which was set up this academic year, includes social events and advice about money and living matters. It also includes help on how to choose the right course. It forms part of the timetable of all Access to Higher Education students at Exeter College.
During the first year 83 students took part in the pathway, which is led by Roisin Quinn, Student Access and Further Education Relationship Manager at the University of Exeter, Marianne Readman, Adult Learner Experience Manager on the Exeter College Partnership Board and Suzy Bell, Access to Higher Education lead at Exeter College.
So far 35 of those who took part applied to the University of Exeter and they were given a guaranteed contextual level offer. University of Exeter mature students get extra support, including an enhanced induction programme and access to mentors.
Ms Quinn said: "Our aim has been to increase progression to university from mature students in Devon – to many Higher Education institutes not just the University of Exeter. We provide support and information to support them to progress to many institutions and courses.
"We hope this will now be a key part of the support for mature students in the South West which will give them the confidence, knowledge and support to go on to higher education."
Participants take part in face-to-face sessions at Exeter College and the University of Exeter where they get advice on applying for university, study skills such as reading, note-making and paraphrasing, researching, academic honesty and referencing, academic writing skills and higher education assessment.
Ms Readman said: "This opportunity to collaborate with a partner university to support our learners to achieve their ambitions is a fantastic addition to all of the hard work of Exeter College staff to ensure a great experience for all our Adult Learners."
Ms Bell said: "It has been a pleasure to work closely with Roisin and the University of Exeter to create and launch the Mature Access Pathway. It has been such a success in terms of supporting students making the transition to university. It has also enabled students to further develop essential study skills, find out about the types of support available at university level, and receive additional guidance throughout the university application process."
Kay Botham, 32, is studying Access to Business. She has applied for Business, Management and Marketing, and Accounting and Finance at University of Exeter. She hopes to work in marketing. Before this Kay had been out of education since she was 19 and says the pathway has been "greatly beneficial".
"It gives you that extra insight which gives you a push. Being able to sit in lectures created such a spark at the right time as I was doing my UCAS application at the time. It confirmed it was what I wanted to do.
"Meeting people at the University of Exeter and being able to ask them questions was helpful. A couple of them had progressed from the Access course last year and they were so knowledgeable. We have had some nice honest conversations with them.
"It's stressful. I have 3 kids, I work, and I do this. But as soon as I said I wanted to go to the University of Exeter I felt like all my tutors at College rallied behind me to make it happen."
Leon Hill is 23 and studying Access to Humanities (English Literature, History and Politics). They are hoping to study Film at Falmouth University.
Leon said: "I chose Exeter College because I had friends who came here when they were 16 and really enjoyed it. It's been worth me making the journey from North Devon which is one of the reasons why I appreciate the MAP programme being incorporated into the course, rather than an additional thing.
"I found the visit to University of Exeter really helpful in demystifying the uni experience. I appreciated being able to go and realise universities are not as scary as I had imagined. It was good to get a feel for how things may feel if I went there.
"Going back to studying has been a challenge, but it is not unreasonably difficult. It is manageable alongside other life commitments if you do pace yourself. I've really enjoyed it. It's been a very understanding, welcoming environment. It was a really good decision to come back into education and to do it at Exeter College."